Adrian Sutil's seventh place finish brought Force India back among the points again but Hispania driver Karun Chandhok's hopes of a third successive finish were dashed after a tangle with Toro Rosso's Jamie Alguersuari in the Spanish Grand Prix in Barcelona on Sunday.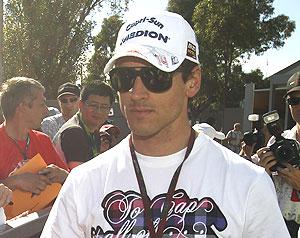 Sutil drove an immaculate race, jumping from his 11th place in the starting grid to the eighth, which he defended with all his might and guile to stave off the consistent challenge from Renault's Robert Kubica.
Towards the fag end, Sutil benefitted from pal and McLaren driver Lewis Hamilton's tyre failure to bring home six valuable points for the Vijay Mallya-owned outfit, which occupies the sixth place in the Constructors' Championship with 24 points in their kitty.
Sutil's team-mate Vitantonio Liuzzi finished 15th in the race won by Mark Webber, who outshone team-mate Sebastian Vettel to prove that Red Bull was not a one-car outfit.
Karun's was an eventful race as he first got into a collision with Felipe Massa in lap 25, which cost the Ferrari driver his front wing.
In lap 29, Alguersuari drove across the nose of Karun's car, which eventually invited a drive through penalty. That, however, was hardly a solace for Karun who pulled up his car after 31 laps.
"What Jaime Alguersuari did was just un-called for. I let him pass. The corner goes right and he goes left," a dejected Karun later said.
Force India chairman Vijay Mallya was happy with Sutil's impeccable display as he said the German thoroughly deserved those points.
"It's been a positive race for Force India as we've added to our total and made it points from four out of five races so far this year. This was one of our aims, to be consistent and score in as many races as possible," Mallya said.
"Adrian had a faultless race and kept calm under a lot of pressure from our closest rivals, Renault, and he thoroughly deserved those points," he added.
Sutil, on his part, said a great start made all the difference in Sunday's race.
"A very good race for the team, with a good pace that showed again we are up there in the midfield really fighting for position and points," Sutil said.
"I had a great start, moving from 11th to eighth, and was not that far behind the Ferrari of Massa for most of the race. I had to push quite a lot throughout as for about 40 laps Robert (Kubica) was quite close behind and there was no time to relax.
"In the end seventh position is a great success for the team. It's more points and keeps that momentum going. I can't wait to get to Monaco now, one of my favourite tracks," he added.