Like a seasoned stockbroker, Michael Schumacher reminded the world on Thursday that past performance is no guarantee of future success and asset values can go down as well as up.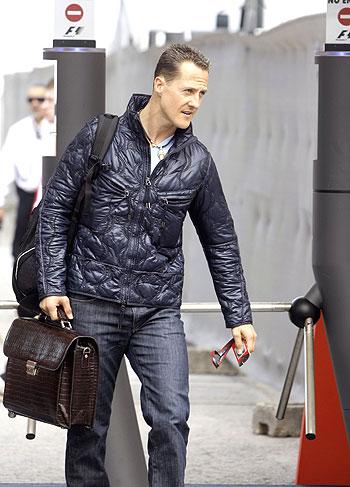 The seven-times world champion, struggling to make an impact in his Formula One comeback with Mercedes at the age of 41 and three years after he retired, recognised that he had failed to meet some people's expectations.
The German has scored just two points in his last three starts, finishing 10th in China last month after retiring in Malaysia and taking a 10th place in Australia.
Once king of the road, the sport's most successful driver is now behind three of his countrymen in the overall standings after four races.
However, looking poised and at ease in front of reporters in the Mercedes motorhome ahead of Sunday's Spanish Grand Prix, Schumacher was confident his performance chart would be trending upwards again soon.
"In China certainly my performance hasn't been good," said the former Ferrari ace. "I think it stuck out particularly there whereas at other races things were on the right trend. I'm very optimistic that things will go in the right direction.
"I'm pretty quiet and relaxed about what is going on. Yes, I know that the car is not perfectly suiting me right now but I haven't expected to come here and sit in and blast everybody away," added the winner of 91 races.
"It's a process and the process is going absolutely good. It's like stock markets, they have a trend upwards and occasionally they have a reset.
"So China was my reset and we'll see where it goes from there."
DISAPPOINTED AND ANGRY
Schumacher said he had been "disappointed and angry" with himself in Shanghai but was not worried about critics suggesting he was past it or a shadow of his former self.
"Even in the moments when I was successful, I had various moments when things weren't going too well and I was similarly criticised," he said. "It's the natural situation and the time and world we are living in.
"In winter when I announced my comeback, everybody was enthusiastic and it was great. And now I haven't been performing to some expectations, but within my expectation, it goes down. I get criticised," he added.
"Next time I am up on the podium I'm sure that the same people will be very enthusiastic again. That's our life, it's emotion and we live for those emotions."
Schumacher will have a different chassis in Barcelona, a circuit where he has triumphed six times in the past, after reverting to a version used in pre-season testing.
He refused to accept that the first race of the European season would constitute some sort of verdict and also brushed aside a suggestion that there could be no excuses now.
"I'm sure that there's always excuses that you can find if you want to," he said.
"Some like to say that now I have the car, now I have to perform and now it should be (fine) and if not etc. I am thinking less this way because it's going to be the first time we work this car, and only after do we understand what is the positive and what is the negative about it.
"Again, I just sort of feel pretty positive that I will follow the trend of up to Malaysia and not what happened in China."