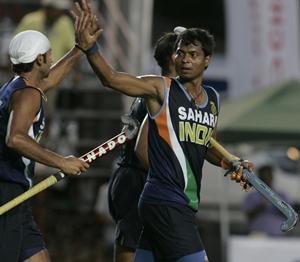 Shattered after persistent ankle injuries dropped curtains on his career, former captain Dilip Tirkey is contemplating coaching, as he believes he still has a lot to offer to Indian hockey.
Considered one of the toughest defenders in his heyday, Tirkey wants to hone the skills of young tribal players from his home district of Sundargarh in Orissa, now known more for Maoist activities.
"We need to groom the young, talented players and give them exposure. I want to coach them, but things are yet to be finalised," the unassuming former Indian captain said.
Saddened by the way his career ended, he said he had hoped to finish on a high by playing in the recent FIH World Cup in Delhi and the upcoming Commonwealth and Asian Games.
"It was a packed year with three big tournaments. I wanted to call it a day on a high, bringing laurels for the country in all the three tournaments. But it did not happen," he rued.
On his retirement from international hockey, Tirkey said, "It was a very tough decision to make. Both my ankles were not holding up for about five-six months. All my efforts to recover went in vain. They would heal and resurface again when I started practising. So I had to give up eventually.
"It was a very very sad end to my career. I am really disappointed, it has shattered me," he said.
The Orissa stalwart, who announced his retirement from international hockey in Bhubaneswar on Sunday after representing the country in 403 matches in a career spanning 15 years, said India's performance in the 2007 Asia Cup was the defining moment of his career.
"Triumphs in the 1998 Asian Games and the 2003 Afro-Asian Games will be the two other big moments of my career. But it was our 7-2 win over Korea in the Asia Cup final in Chennai that I will always cherish. They were a strong side and we trounced them," Tirkey, who played his last match in the Asia Cup last year, said.
Having represented India in three consecutive Olympics from 1996 -- captaining the team in Athens in 2004 – Tirkey said he still regrets India's performance in Sydney (2000).
"We failed to make the semis despite a good run. A last-gasp equaliser by Poland in the pool game ended the match 1-1 and India missed out on a berth in the last four. It cost us dear, as we finished seventh after a 3-1 win against Argentina in the classification match. That was really sad," he rued.
Another disappointment was when India failed to qualify for the Beijing Olympics after going down to Great Britain in the qualifiers in Chile last year.
"We did well overall but it was in the the qualifiers where the team was not consistent. One bad run and it was over. It will always remain a blot," said Tirkey, who made his debut in the Indira Gandhi Gold Cup in 1995.
There was a time when the Indian defence was manned by Orissa players. There was Tirkey, Lazarus Barla and William Xalxo guarding the back-line, with the help of the Tirkey brothers -- Prabodh and Ignace -- both mid-fielders.
Reflecting on the recently-concluded World Cup in Delhi, where no player from his state figured in the Indian team, Tirkey said most of the Orissa players were on the injured list.
"But there are a number of players from the state like Innocent Kullu, Manjeet Kullu and Belshazar Horo who are talented juniors from Sundargarh district," Tirkey said.
Having seen the ups and downs of the Indian hockey in his long career, Tirkey said the players had failed to cope with the need for pace and perfection.
He also argued for a second team at the national level to groom youngsters.
"Beside the main side, we need to have a second string 'A' side, allow them a lot of exposure so that they can replace the main players any time," he explained.
Tirkey felt the game also needs to be popularised in the big cities.
"We need to promote and popularise the game in metros. There is a need to organise international matches so that children can see the stars in action. They need to be motivated.
"I had grown up watching Pargat Singh. He was the best deep defender when I was young. I saw him as my idol. For this to happen, we need to involve corporates and develop infrastructure," he said.