Chelsea striker Didier Drogba has been handed a two-match European ban after being sent off in the Champions League defeat by Inter Milan at Stamford Bridge earlier this month, UEFA said in a statement on Tuesday.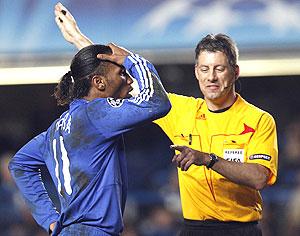 Drogba was shown a red card after clashing with midfielder Thiago Motta in the last-16 second-leg game on March 16, which Inter won 1-0 to go through 3-1 on aggregate.
The Ivory Coast striker was originally ineligible for Chelsea's first four European games this season after being banned for six matches, two of them deferred, for his behaviour in last year's Champions League semi-final against Barcelona.
At the end of the away-goals defeat by Barcelona, Drogba harangued referee Tom Henning Ovrebo and launched a foul-mouthed tirade aimed at a live television camera.
The ban was later reduced to five matches, with two deferred, on appeal. UEFA said on Tuesday it had decided not to invoke the suspended two-game ban because Drogba's sending off against Inter was for a different type of incident.
The European governing body has, however, extended World Cup-bound Drogba's probationary period by two years.
"The player's existing period of probation, which began on 15 July 2009 and was originally intended to run for two years, has also been extended to 15 July 2013," the European governing body said on its website (www.uefa.com).