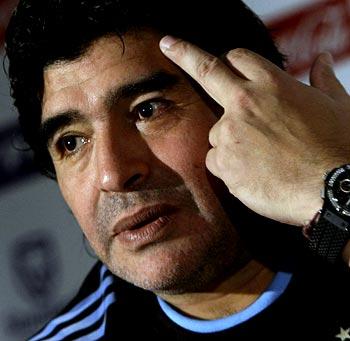 Argentina's World Cup coach and soccer great Diego Maradona was bitten on his face by one of his pet dogs and plastic surgeons have repaired his upper lip, doctors and team officials said on Tuesday.
Maradona was checked into Los Arcos clinic during the early hours and was scheduled to be released later on Tuesday after treatment.
"He was evaluated by plastic surgeons and taken to an operating room where they did reconstructive surgery on his upper lip," the clinic said in a statement.
Maradona was hospitalised in the same clinic in 2007 with toxic hepatitis from drinking.
Witnesses said Maradona was bleeding close to his mouth when he arrived at the clinic with his girlfriend.
"He's doing well. He's in good spirits. They'll let him out today," national team spokesman Fernando Molina told reporters outside the clinic.
Maradona, 48, a gifted player who led Argentina's team to its second World Cup victory in 1986, is worshipped in Argentina despite years of scandal involving drug addiction, overeating and alcoholism.
He retired from professional soccer in 1997 and almost died from cocaine-induced heart problems in 2000.
In 2008, despite concerns over his continued substance abuse, explosive conduct and lack of coaching experience, he talked his way into the job as coach of the national team.
Although his coaching record has been spotty -- Argentina barely squeaked into the World Cup finals-- the team is now among the favourites to win.
The World Cup in South Africa kicks off on June 11. Argentina are in Group B with Nigeria, Greece and South Korea.