We've seen Usain Bolt, the fastest man on earth, who, with his phenomenal speed has changed conceptions of how fast humans might run.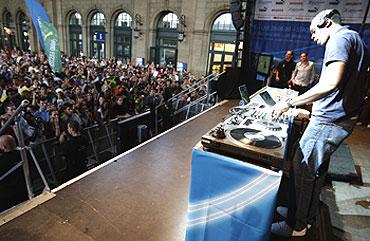 But how many of us know that Bolt is also a party animal with a penchant for dancing and occasionally playing DJ.
The World's fastest man, is a regular at Jamaican night clubs and the clubbers of Kingston give this Olympic champ the space he needs to be himself.
Last Sunday, Bolt made an entry into a heaving club called Fiction in Kingston and grooved to a playlist spanning shuddering dance hall, conventional R&B, kitsch 90s pop and even Nirvana's Smells Like Teen Spirit.
"I still go to the Quad," the 23-year-old said of the club that he had made famous in 2008. Having shocked the world at the Beijing Olympics, Bolt announced his wish to be transported from the Bird's Nest Stadium to the Quad in Kingston.
"But I enjoy it at Fiction too," he told the Guardian. "It's sort of middle-class but I like going there. And of course I know all the DJs. When they come to the end of the night they let me mess around sometimes. But I'm only in practice as a DJ."
Bolt has been revelling in his laid-back Jamaican life-style since he drew curtains on the World Championships with 100m and 200m world records last August. Acknowledging the support of his sponsors, Bolt said "This year without a World Championship or Olympics, you can slack off because you don't have to worry so much.
"But I have to try and stay on top because I owe it to my sponsors, Puma, who stuck by me when I was young and had some injuries. I also owe it the fans because they come out to see me win.
"I'm now on a six-week programme to get into shape because my main goal is to stay unbeaten this year. I saw (fellow Jamaican) Asafa Powell in training and he's looking good. But this year I want to take it as easy as possible. Of course, if I need to run as fast as 9.5 to stay unbeaten I have to do it. But if I just have to run 9.9 to win every race, then that's what I want - because next year is different. I have to get back to 9.5 next year," he told the Guardian.
Bolt also sounded a warning to his competitors and said he had not ever really tried as hard as he could in the 100 metres: "The best is still to come. I've never run just straight and focused on getting to the finish line. I'm always looking over at the other guys to see where they are. So one day, if I can stay focused and run really fast right through, then I could do it."
Bolt also plans on breaking Michael Johnson's 10-year-old world record for the rarely run 300m in May. "It should be good," he said, "but we're not trying to overdo it this year."
Bolt has even offered Powell, his closest competitor, a form of counselling. "I've said to him he shouldn't stress too much or worry about the crowd. I'm always telling him this - you've got to do this for yourself first. If you do it well, then people will love you.
"When I broke Asafa's 100m world record (in May 2008) he said the pressure was off him. But I don't think the pressure is ever off if you're one of the top athletes. People are always going to be looking for you - especially if someone takes your record. They want to see if you can reclaim it. He said the pressure was less but I don't think he acted like that. If the pressure is off, you just need to relax and have fun.
"Asafa's a great athlete. I keep telling him this. He's one of the only guys out there who could beat me because he's tall and powerful and he has a lot of strength. So if he gets it right, and Asafa also starts running 9.5, it's going to be huge."