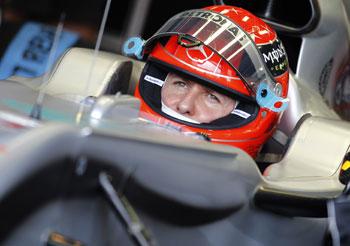 Formula One legend Michael Schumacher has accused rivals Lewis Hamilton and Fernando Alonso of coming in his way during various stages of qualifying for the Australian Grand Prix.
Schumacher, seventh on the grid for Mercedes, was so upset with the way that Ferrari's Alonso and McLaren's Hamilton drove while on a slowdown lap at the end of Q3, that he confronted the Spaniard in parc fermé after the session.
The 41-year-old German, returning to Formula One after an absence of three years, then sought out race director Charlie Whiting to discuss the matter further.
"Basically on my last try, I was slowed down by him. I asked him whether the team had told him (I was on a quick lap) and he said no. We had this chat yesterday in the drivers' briefing that this should be taken care of, and actually he (Alonso) was one of the main guys asking about it," The Telegraph quoted Schumacher as saying.
"Then I had a conversation with Charlie about it because I wanted to know what are the guidelines here – and whether the rules have changed a little bit to what they used to be," he said.
When asked about Hamilton in Q2, Schumacher added: "I had a similar issue with Lewis; that he was adapting his lap and preparing his lap and blocking me in a way – which is not very nice."
Fireworks between the top drivers were widely predicted this term given the size of the egos on the grid. There are four world champions spread across three teams, with little love lost between many of them.