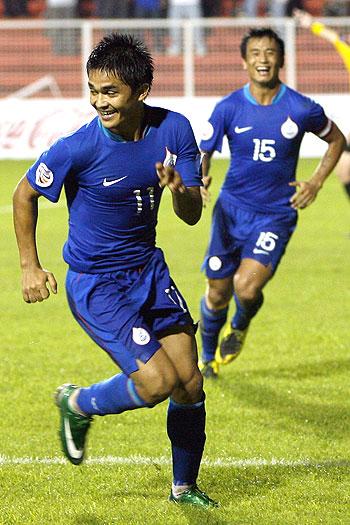 Sunil Chhetri on Friday became the first Indian footballer to join the United States Major League Soccer after he signed a formal contract with MLS side Kansas City Wizards at the club headquarters.
His contract, reportedly for four years, though is subject to his obtaining P-1 visa and International Transfer Certificate, the MLS side said.
"Sunil Chhetri has agreed in principle to terms with Major League Soccer, pending his P-1 Visa and ITC approval. Chhetri will be unavailable to play in the Kansas City Wizards opener versus DC United at home on Saturday," a release said.
"I am really happy to be in KC Wizards. I am proud to be the first Indian playing in the MLS. I think it will take some time for me to settle down. I am quite sure that I will be able to do well here," Chhetri said during a teleconference from the United States.
"I have not faced much problem during my trial for the club at Arizona. The facilities are really good and they are not something I used to get everyday back home. I will listen to my coach, coaching staff, team-mates and others and try to understand them. I am going to come to training and give my best everyday," he added.
The 25-year-old Delhi players thanked his former I-League club Dempo and the All India Football Federation for their support in getting to KC Wizards.
"I thank Dempo for their support and they released me for trials here. They were gunning for I-League title and I know they must have felt my absence. I also thank the AIFF for their support in my endeavour to play abroad and in MLS," he said.
KC Wizards Manager Peter Vermes said Chhetri was a technically sound player and was all praise for the Indian for gelling well with his team-mates in a short period.
"One thing we really like about Sunil is that he's a crafty player. Technically he's very sharp, and he's a guy that has good attacking tendencies," Vermes said.
"It is difficult for players to just come in and fit into the team. But it was wonderful that Chhetri had easily gelled with the team during trial and a practice match he played. He will not play our first MLS match (against DC United on Saturday) but he is a bright prospect to make it to the playing team in future," added Vermes.
Asked whether any other Indian players were in the radar of KC Wizards, Vermes replied in the negative but said Chhetri's move to the USA could be followed by others.
"Few days ago, I spoke to USA football federation chief whose name is Sunil Gulati. I said we have two Sunils in the United States. Hopefully, Chhetri's move could lead to other Indians coming to MLS and other countries," Vermes said.
Chhetri becomes the third Indian player to ply trade in a professional league abroad after Mohammed Salim and current national captain Bhaichung Bhutia.
Salim played for Scottish side Celtic in pre-independence days of India while Bhaichung was with English Championship side Bury FC in the second division from 1999-2002.
The five feet seven inches tall striker becomes the first Indian and eighth Asian citizen to play in MLS. He will also be the first Asian to play for the Kansas City Wizards.
Chhetri has been a regular with the Indian national team since 2004, scoring 16 goals in 35 appearances. His most famous moment with the national team came in 2008, when he scored a hat-trick in the final of the 2008 AFC Challenge Cup against Tajikistan.
Because of the victory in that tournament, India qualified for the 2011 Asian Cup in Qatar, the first time after 1984.
Chhetri began his professional career in 2002 with Mohun Bagan, scoring eight goals in 18 appearances over three years with the team.
He later played for I-League sides JCT, East Bengal and Dempo, making 75 appearances and scoring 35 goals over the next five years, earning Indian Player of the Year honour from the AIFF in 2007.
Chhetri drew interest from British clubs Leeds United and Glasgow Celtic and appeared for trials last year with English Championships (second division) sides Coventry City and Queen's Park Rangers.
QPR offered Chhetri a contract but could not complete his move after the English Home Office denied him a work permit due to India's low FIFA rankings.