Williams driver Rubens Barrichello hopes Michael Schumacher is driving just for pleasure as he believes the German great has more to lose than gain from coming back after three seasons on the sidelines.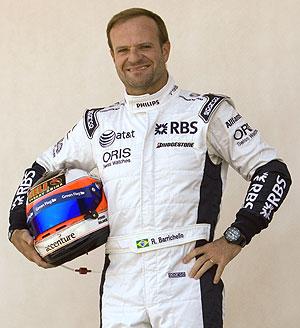 "I've got to be careful with whatever I say there, because it sounds always very dodgy coming out of my mouth," he said at Albert Park circuit on Thursday.
"(Honestly), I think he can do well this year, but when he left he was winning all the time. For me, he has more to lose than gain."
Seven times world champion Schumacher returned to the track at the season-opening Bahrain Grand Prix finishing sixth, one place behind fellow German team-mate Nico Rosberg.
"If he doesn't care about that and he's doing it for pure pleasure then he's fine," said Brazilian Barrichello, who spent six years as second fiddle behind Schumacher at Ferrari, and is now starting over with Rosberg's old team Williams after stints at Honda and Brawn GP, now Mercedes.
"If Formula One wasn't watched on TV or by journalists and you had just the pleasure of yourself looking in the mirror... That's how I took 2007 and 2008 because I had a terrible car, but I had driven races (where) I finished 13th, better than when I won races with better cars."
Barrichello finished 10th after qualifying 11th in his Williams debut at Sakhir, where a dull procession-like finish to the race has sparked criticism of F1 rule changes, which include a ban on refuelling.
Tyre degradation, which had been expected to force more drivers to the pits to allow more overtaking opportunities, did not figure at Sakhir.
Barichello said "four or five" races would need to run before the effect of the rules, which include a ban on refuelling, could be properly assessed.
"Melbourne, we know as a fact that the track improves a lot up to Sunday, but it doesn't have the rubber that Bahrain had. So, will we have the (tyre) degradation or not remains to be seen."