Barcelona's ace player Lionel Messi has overtaken David Beckham as the best-paid footballer in the world.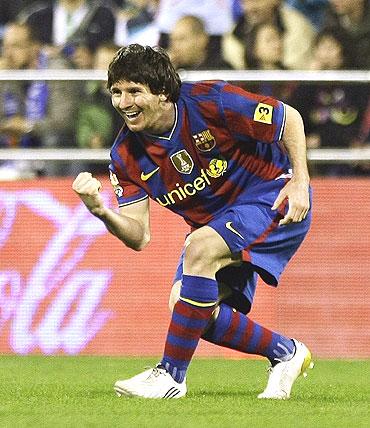 Beckham, 34, had topped the annual rich list for the last two years because of his massive income from advertising endorsements.
But the 3.6 million pounds bonus the 22-year-old Messi banked for winning the treble last season saw his overall pay climb to 29.6 million pounds.
Beckham finished in the top two footballers' earnings spot for the ninth consecutive time after coming out on top five times.
France Football magazine reports that the LA Galaxy midfielder suffered a drop in income from 29.1 million pounds to 27.3 million pounds last year.
Beckham, who will miss the World Cup after his Achilles' injury, is all set to be overtaken by Ronaldo with the Portuguese winger replacing Beckham as the face and body of Giorgio Armani this year.
Messi was still only the fourth highest earning sportsman last year behind Tiger Woods, Phil Mickelson and LeBron James. Beckham is seventh also behind Fernando Alonso and Michael Schumacher.
Inter Milan's Jose Mourinho is the highest paid manager ahead of Manchester City boss Roberto Mancini.
The France Football rich list:
Players (combines salaries, bonuses and off-field earnings)
1. Lionel Messi (Barcelona) 29.6-mn pound
2. David Beckham (LA Galaxy/Milan) 27.3-mn pound
3. Cristiano Ronaldo (Real Madrid) 27-mn pound
4. Kaka (Real Madrid) 16.9-mn pound
5. Thierry Henry (Barcelona) 16.1-mn pound
6. Ronaldinho (AC Milan) 15.5-mn pound
7. Carlos Tevez (Manchester City) 13.8-mn pound
8. Zlatan Ibrahimovic (Barcelona) 13-mn pound
9. Frank Lampard (Chelsea) 12.8-mn pound
10. Samuel Eto'o (Inter Milan) 12.4-mn pound.