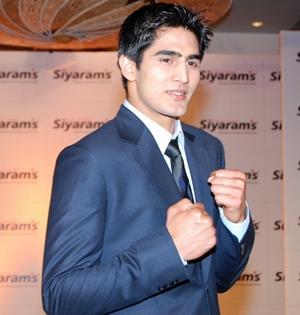 India's boxing ace Vijender Singh believes the country's pugilists can win a rich haul of medals at the 2010 Commonwealth Games in Delhi later this year.
His optimism is not surprising. After all, the Indian team swept six of the ten gold medals on offer at the recently-concluded Commonwealth Boxing Championships in Delhi.
"We won six gold medals at the Commonwealth Boxing Championships, so, definitely, I am sure we can win a lot more gold medals at the Commonwealth Games," Vijender said, in Mumbai, on Thursday.
"The Indian boxers have performed consistently in the last couple of years and in every tournament we have managed to win medals. So, definitely, there is a lot of interest among the Indian public, because we have been successful," he added.
Vijender is credited for bringing the sport into the limelight in the country after his bronze medal win at the 2008 Beijing Olympic Games, the first ever Olympic medal for an Indian boxer.
He continued making giant strides in the sport and won a historic bronze at the World Boxing Championships in Milan last year and, soon after, was ranked the world's number one boxer in the middleweight category by the International Boxing Association.
Vijender pointed out that other boxers need to take a cue from him and keep winning medals at international meets.
"Success is very important, not only for boxing but all other sports, because that will help make it more popular and attract more fans."
He further stressed that it is important to keep oneself fit and free from injuries going into the Commonwealth Games.
"I will keep training regularly, because training is very important in boxing and it will also keep me in shape when the Commonwealth Games come. I am looking to keep myself free from injuries and that is very important."
Vijender was named the new brand ambassador of Siyaram's, India's leading men's wear fabric brand. He joins the likes of India cricket captain Mahendra Singh Dhoni.
The 24-year-old revealed that the country is set to witness a big revolution in boxing with the introduction of 'Fight Nights', a franchise-based competition similar to Indian Premier League (IPL).
"Just like the IPL, we are working towards getting a franchise type competition in Indian boxing. The modalities are being worked out and very soon we will have the fight nights, like we see in the IPL every night. The fight nights will be conducted in all big cities like Mumbai and Delhi, so that people can also enjoy the action live, just like we have in the UK and US."
He said it is necessary to bring Indian fans close to the sport to dismiss the myth that boxing is just violence and not a sport.
"Some people believe boxing is all about violence but it is not the fact. So, through this tournament, we can show the people that boxing is just a sport after all. It is a good opportunity to make boxing popular in our country and it will suit their timing also if we have the fights schedule in the evening so people can come and watch after office hours," he added.
Vijender said the country's top boxers are scheduled to tour Cuba in April for a training camp of nearly 45 days, which should hold them in good stead ahead for the future.
"We are getting invites from top boxing nations like England, Germany and even Cuba, because they all know that our boxing standards have improved.  We are going to Cuba in April for around a month for training. The number one boxers in the country with the coaches and the physios would be going to Cuba. They are top nation in boxing so definitely we can learn a lot like how their top boxers train and what their schedule is and also pick up tips from them. So it will be a big boost for us," he said.