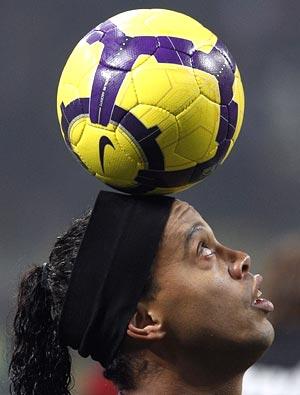 Ronaldinho's experience could have a calming effect on Brazil's youthful World Cup side if coach Dunga recalled the 30-year-old to the squad, Pele said on Tuesday.
Three-times World Cup winner Pele said in an interview that he would pick Ronaldinho, who turned 30 on Sunday and has played at two finals, helping Brazil win their fifth title in 2002.
The 69-year-old also said Lionel Messi needs a well-organised Argentina side in which to exhibit his brilliant Barcelona form, while England and Spain would be dangerous opponents at the June 11-July 11 tournament in South Africa.
Pele praised Dunga's record but is concerned about a possible lack of World Cup experience among the players expected to be picked for the squad.
"I think Brazil are on the right track but we have to be careful because the majority of the players have never played at a World Cup before, so there will be a lot of pressure and we must see how those players handle it," Pele said.
"If Ronaldinho keeps playing as he is now ... I believe he would be a good component because he could help when the younger players feel the pressure."
Ronaldinho, who last played for Brazil last April, has been in good form for AC Milan this year but despite speculation about a return to the national team he appears out of Dunga's plans.
Brazil and fellow favourites Spain could expect tough opposition from the likes of Argentina, despite their poor qualifying campaign.
"Even (top) teams that are not in form like Argentina, who practically qualified in last place, we've got to respect them because they're a country accustomed to playing the World Cup," he said.
"Another country that had not been doing well but who in this World Cup will be a difficult country to beat is England, who can take a very strong team (to South Africa).
"They can reach the last four."
TOP PLAYERS
Pele identified Messi, Portugal's Cristiano Ronaldo and Robinho of Brazil as players with the potential to light up the World Cup.
Messi, however, might be unable to reproduce the fantastic form he is showing at Spanish club Barcelona.
"He's a great player, he's playing marvellously at Barcelona but when he goes to the national team he doesn't play as well," said Pele.
"That is possibly because the national team doesn't have the same group as Barcelona.
"Then there's Cristiano Ronaldo, who's also a marvellous player, and Robinho, who has already improved quite a bit," he added.
Robinho, who returned to Santos on loan from Manchester City, has a crowd-pleasing style while Brazil would also need Kaka to be in top form.
"For the public, Robinho has a happier style that appeals to the fans," he said. "Now, for the national team, it's very important that Kaka is in good shape."
Photograph: Reuters