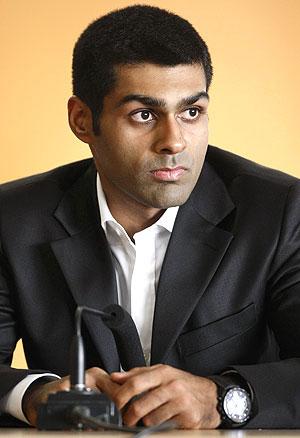 "Welcome to the gang." Coming from the matchless Michael Schumacher, these generous words sweetened Karun Chandhok's Formula One debut in Bahrain but looking ahead, India's newest F1 driver reckons a jerky ride awaits him this season.
It was indeed a series of lucky coincidences that gave India its second Formula One driver and things fell in place one after another to facilitate Karun's graduation from GP2 to F1.
His team Hispania, grappling with finance crunch, put together a car just ahead of the season-opener in Bahrain and was accommodated in the starting grid without any pre-season testing.
Accordingly, Karun finally followed in Narain Karthikeyan's footsteps and became what he had dreamt all his life. And things could not get headier as he was welcomed by none other than seven-time world champion Schumacher.
"I met him in the drivers' parade and it was very nice of him to come to me and introduce himself. He said 'hello' to me and then said 'welcome to the gang'. I talked to him briefly, along with (reigning world champion) Jenson (Button)," Karun said.
Schumacher himself is making a comeback this year with Mercedes and Karun felt this was just what the sport needed.
"His comeback is great for Formula One. It suddenly brought back whole lot of F1 viewers who had gone missing," the Chennai driver said.
"Every sport needs superstars. You need Sachin Tendulkar, Roger Federer and Lance Armstrong. I feel despite all that has happened, golf badly needs a Tiger Woods," he elaborated.
Talking about personal goals and targets this year, the 26-year-old third generation driver from a well-known family of motorsport enthusiasts looked careworn.
"I would like to establish myself as a credible, respected F1 driver. It's difficult to make an impression with a team which itself is not established but I have to make an impression in the paddock. I have to make an impression with the people who matter and who can open new doors for me," Karun said.
From the team's perspective, Karun said to become the best of the rookie outfits would be a creditable result.
"By the time we reach the middle of the season, the fight is to become the best of the new teams and to finish the season as the best new team. That would be a strong effort," he reckoned.
Karun did not look sore about the deal with Force India that always did the rounds but never materialised and said it's always better to be a race driver than a test driver.
"It would have been nice to have an Indian driver in an Indian team and if it happens in future, it would be nice for the country," Karun said.
"I'm happy Hispania gave me a chance to race. I have nothing personal against Vijay (Mallya). It's his team, his business. He had contracts with both his drivers and he chose to honour that.
"They already had two drivers, so maybe the test driver was all they could offer. After the new regulations came into being, it's always better to be a race driver than a test driver," he reasoned.
Asked what was the most thrilling moment of his nascent F1 career, Karun said having the first look at his Dallara car.
"The most thrilling moment was when I saw the car Dallara had made for me. Of course I had signed the contract before that and saw my name on the paper but to see my car and make my seat sent thrills down my spine," he gushed.