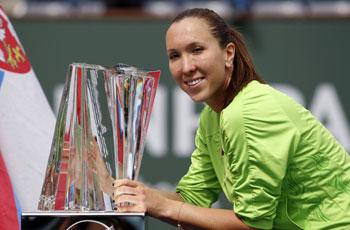 Serbian Jelena Jankovic won her 12th career title with a 6-2, 6-4 demolition of second seed Caroline Wozniacki of Denmark at the Indian Wells WTA tournament on Sunday.
The sixth seed, in scintillating form from the baseline, wrapped up her fourth successive victory over the Dane when her opponent struck a forehand service return long.
Jankovic, 25, kissed her racket before bringing both hands up to her cheeks in a mixture of celebration and relief before waving to the crowd at the Indian Wells Tennis Garden.
"It has been a great two weeks for me, really amazing," a beaming Jankovic said at courtside. "I am just so happy and so thrilled I was able to win this title.
"Today I was ready from the start. I went out there knowing my game plan, what I needed to do. I wanted to be really aggressive, but at the same time patient and not really go for too much.
"I waited for my opportunities and when I had them, I took them," added the Serb, a former world number one who is unbeaten in her last seven matches against top-10 players.
"I have done a great job today. I also want to congratulate Caroline for making it such a great event and also for making it to number two in the world," she said.  
The 19-year-old Wozniacki, a US Open finalist last year, is projected to climb to a career-high second when the world rankings are released on Monday.
IMPORTANT POINTS
"Jelena played a good match," the Danish teenager said.
"She didn't make a lot of mistakes. I tried to change it when I saw it was not going way but I just made a few too many errors at the important points.
"I couldn't really get to play the game that I wanted to play, and Jelena took advantage of that," she added.
Jankovic, consistently hitting deep groundstrokes, broke the Dane in the first and third games of the match to race into a 4-0 lead. Although she surprisingly lost serve in the sixth, she immediately broke back before taking the opening set.
The Serb, wearing a lime-green dress, tightened her control when she again broke in the first game of the second after the Dane netted a forehand.
The rest of the set went with serve and Jankovic, playing in her first WTA final of the year, earned match point with a backhand winner down the line before sealing victory when Wozniacki's service return landed long.
Jankovic is projected to rise to eighth when the rankings are issued but she prefers to look further ahead.
"I'm looking to playing some good tennis and really doing the right things out there," she said.
"If I'm doing that, I'll be winning big titles and the ranking will come on its own," she added.