Jelena Jankovic came from 2-4 down in the second set to book her place in the semi-finals of the Indian Wells WTA tournament with a 6-4, 6-4 victory over Russian Alisa Kleybanova on Thursday.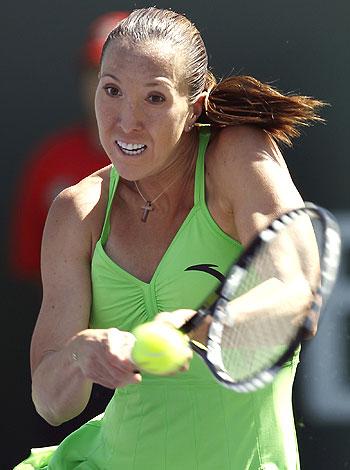 The sixth-seeded Serbian ended an error-strewn match lasting one hour, 42 minutes on serve at the Indian Wells Tennis Garden when her opponent struck a backhand long.
Jankovic will next meet eighth-seeded Australian Samantha Stosur, who beat Spanish left-hander Maria Jose Martinez Sanchez 6-3, 7-6 after clinching the second-set tiebreak 9-7.
Second-seeded Dane Caroline Wozniacki and fifth seed Agnieszka Radwanska of Poland advanced on Wednesday and will play their semi-final on Friday.
World No 9 Jankovic was delighted to reach the last four for the first time on this year's WTA Tour.
"I am just happy to be in the semi-finals again," she said at the courtside after pumping her right fist in celebration once the match ended. "Today was not easy."
Jankovic, a winner of 11 Tour titles, piled up 21 unforced errors in a match of wildly fluctuating quality while the Russian totalled 40.
"Kleybanova is a really tough opponent," added Jankovic. "Sometimes I think I have her on the run and then she just comes up with some unbelievable shots.
"She's a tricky player and can throw you off your rhythm at times. I just tried to stay focused, to play the best that I can under those circumstances. I was able to get through this match, so I'm really pleased."
AFTERNOON SUNSHINE
Jankovic, a semi-finalist at Indian Wells in 2008, broke Kleybanova in the third game of the match before taking the opening set in 50 minutes in early afternoon sunshine.
The second went with serve until the sixth game when Jankovic was broken after hitting a backhand long to trail 2-4.
However, the former World No 1 immediately broke back after the 23rd-seeded Russian twice double-faulted and Kleybanova also lost serve in the ninth.
Jankovic, who hit only seven winners in the match compared to 19 from her opponent, made no mistake when serving for a place in the last four, ending the Russian's unbeaten run of eight matches.
Kleybanova, who made her WTA Tour debut at Indian Wells aged 14 in 2004, won her first title on the circuit in Kuala Lumpur earlier this month.
Stosur, who is projected to break into the top 10 for the first time when the rankings are released Monday, came from 1-4 down in the second set and squandered her first three match points before sealing victory.
The match ended in confusing circumstances, however, when Martinez Sanchez, trailing 7-8 in the tiebreak, double-faulted while thinking the score was 8-8 after her first serve had been challenged by Stosur.
"I thought it was then 9-8 and not the finish, so I was disappointed," the 28th-seeded Spaniard said. "I don't know what happened, really. I make a mistake."