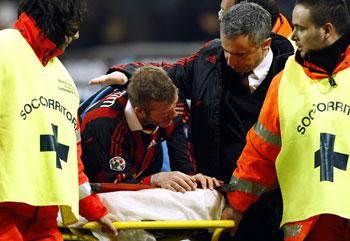 David Beckham's World Cup hopes hung in the balance after the England midfielder went off with a suspected ruptured Achilles tendon late in AC Milan's 1-0 Serie A win over Chievo on Sunday.
Beckham was getting ready to kick a ball unchallenged when he suddenly pulled up and signalled to the bench despite second-placed Milan having used all their substitutes.
Beckham told the San Siro bench "It's broken, it's broken" as he came off. Team-mates said he was in tears in the dressing room.
"When the Achilles tendon goes you feel it straight away," Milan coach Leonardo told reporters after his side moved one point behind leaders Inter Milan with 10 games left.
"The injury to David is upsetting. This injury lets me enjoy the win less."
The 34-year-old Beckham, on loan at Milan from Los Angeles Galaxy chiefly to try to safeguard his England squad place for the World Cup in June, now faces a race to be fit for the tournament in South Africa.
Television analysts said Achilles injuries can take up to three months to heal, sometimes more.
England are well-covered on the right wing with Theo Walcott, Shaun Wright-Phillips and James Milner among the players able to play there. Tottenham Hotspur's Aaron Lennon is currently injured.
Beckham, a former captain who played at the 1998, 2002 and 2006 World Cups, is England's most capped outfield player with 115 appearances.