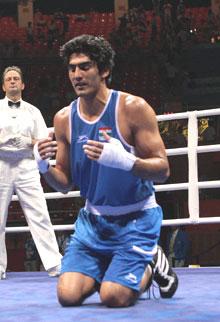 Olympic and World Championship bronze medallist Vijender Singh out-classed his rival to ensure himself of at least a bronze along with two other compatriots on a second successive day of dominance for Indian boxers in the fifth Commonwealth Championships in New Delhi on Saturday.
Apart from Vijender (75kg), Asian champions Suranjoy Singh (52kg) and World Cup bronze medallist Dinesh kumar (81kg) also advanced to the semi-finals.
However, there was heartbreak for Dilbagh Singh (69kg), who lost a hard-fought bout.
Egged on by a partisan crowd, the world number one Vijender took just over five minutes to wrap up the bout and advance to the semifinals of the middle weight category.
He was leading 5-0 when the referee stopped the contest.
Both the boxers appeared defensive and spent most of the opening round trying to evade each other. The 24-year-old Indian managed to land a few straight punches that fetched him three points.
The second round belonged to Vijender and though he earned just two points, some lusty uppercuts forced the referee to stop the contest and award the bout to the Indian.
"I wanted to spend a little more time in the ring to get a feel of it and get into the groove but such a win denies you that. I hope to win a gold medal now," said Vijender.
Vijender will now face Selemani Kidunda of Tanzania. Suranjoy, meanwhile, out-punched Kenya's Benson Gicharu 14-2 in a lopsided bout.
His body was not upto it, admitted Suranjoy but that hardly affected his performance as he went on the offensive from the word go.
The Manipuri Navyman exploited his jittery rival's cautious approach with powerful hooks and jabs.
"My body was a bit tight and that was affecting my movement but I attacked him in the first round," said the 24-year-old who has endured a busy season competing in four back-to-back tournaments in the past nine months, winning gold medals in three of them.
"He was not at his best physically but he still managed to put it across rather well," said national coach Gurbax Singh Sandhu.
Suranjoy will now be up against Andrew Selby of Wales, who beat English teen Gamal Yafai 7-6 in a closely-contested bout.
However, Dilbagh's medal hopes were dashed when he went down 4-5 to Englishman Callum Smith.
The eight-time national champion was penalised two points for holding his opponent, which ultimately cost him the bout.
In a contest that had the two grappling more often then exchanging blows, Dilbag and Smith took a rather long time to get a measure of each other with the first round ending 1-0 in the favour of the Englishman.
But the Indian roared back into the bout with powerful jabs and it was 2-2 at the end of the second round.
With desperation setting in for both the boxers, the final round was a free for all and had it not been for the two-point penalty that he was handed, Dilbag could well have emerged winner.
"I am very disappointed because I think I could have won it. It's all my fault because I made some tactical errors," said the dejected 27-year-old.
Smith, who was as evasive if not more than Dilbag, benefitted due to the mistakes committed by the Indian.
"Dilbag hit him when he was bending. Had Dilbag let him go and allowed the referee to see what Smith was doing, who knows he would have got the penalty instead of our boy," said Sandhu.
However, Dinesh ensured that the Indians ended the day on a high when he beat New Zealand's Reece Papuni.
Dinesh was leading 7-2 when his rival retired midway through the third round of the bout.
The 23-year-old Olympian will take on Tanzania's Leonard machichi.
"I wanted to win it for Dilbag. I was very disappointed with his loss," said Dinesh.
Earlier, Paramjeet Samota (+91kg) had advanced to the semi-finals after getting a bye ensuring a fourth bronze for the country.