A year ago, Jarno Trulli was dreaming of Toyota's first Formula One victory after blasting to pole position in Bahrain.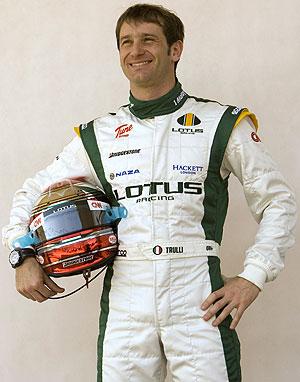 It never happened, and after Toyota pulled out at the end of the season the Italian is now resigned to qualifying near the back of the field in Sunday's season-opener at Sakhir.
Finishing the race would be a victory in itself.
Trulli, however, now partnering Finland's Heikki Kovalainen at the reborn Malaysian-backed Lotus team, is not unhappy with his situation.
"I thought about it while I was driving here," he said.
"I said to myself: 'Last year I was on pole and this year I will see myself on the back of the grid'.
"That's it, you have to re-start from zero, from scratch, like here, and try to do again what I have done before, pushing the team and giving the team the direction technically and bringing it back to a certain level," he added.
Toyota swept the front row last season but strategic errors, and the supremacy of Jenson Button's Brawn, put paid to the hopes of a team that had spent hundreds of millions of dollars with little reward.
Trulli finished third but was downcast, only too aware of what might have been.
IMPORTANT PROJECT
"I am the kind of person who is never happy enough but I try to fix my target," he said.
"Last year my target here was to try to win the race and I didn't, ... this year I may fix a target where let's say to finish the race would be enough."
Trulli said that his satisfaction was more about performance than the general result.
"Sometimes you also have to be happy just to get things right and be here and try to work on this fantastic project," he added.
"Taking Lotus back on the track after 16 years is something important."
The original Lotus led by Colin Chapman enjoyed an exalted status, with 107 poles and 79 wins between 1960 and 1987.
Their seven constructors' championships left them fourth in the all-time list while their champions included the late Jim Clark, American Mario Andretti and Brazilian Emerson Fittipaldi. The late Ayrton Senna took his first race win in a Lotus.
"You can breath the air of Lotus. It will be hard at the beginning, but the intention of everyone behind this project is to take Lotus back to where it belongs and it will take some time. But we are serious about it," said Trulli.
"I'm really proud, but I am also old enough to understand that I am responsible," he added.
"I cannot leave the team where it is now, I want to bring it back to where it belongs. I don't want to ruin the name and the heritage of Lotus, because Lotus can only be second to Ferrari - not to anyone else in the paddock."