Jenson Button is relishing the prospect of climbing into the Formula One world champion's number one car for the first time this week.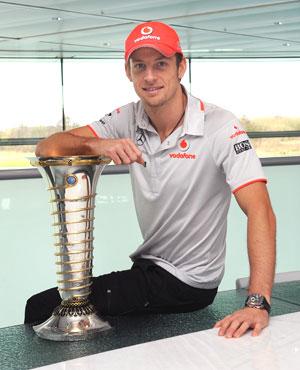 "Just before I put on my helmet and I look at the car and see the number one it is going to be an emotional moment," the British driver said ahead of Sunday's season-opening Bahrain Grand Prix.
"Stepping into the car and seeing the number one on it is a very special feeling ... but as soon as you step into the car and close your visor, last season is out of the window and you are purely focused on this year."
Button intends to come out fighting when he makes his race debut for McLaren on Sunday to kick off what he expects to be an "electric" season.
"For any champion I think it's important to be quick out of the blocks," he said. "If you look back normally the guy that really fights for the championship and gets the championship is strong from the word go.
"I think it's important for all of us to be up there at the front here in Bahrain," added Button, relaxed and smiling alongside team-mate Lewis Hamilton.
"The competition is very fierce, I must say, but that's why it's exciting," said the 30-year-old, who took the title with Brawn GP last year after winning six of the first seven races.
"For a fan of Formula One, this season should be electric. If it's not we are doing something seriously wrong."
Four champions will be on the starting grid on Sunday, including returning seven-times champion Michael Schumacher at Mercedes, formerly Brawn.
Most of the remaining living champions will also be watching as special guests.