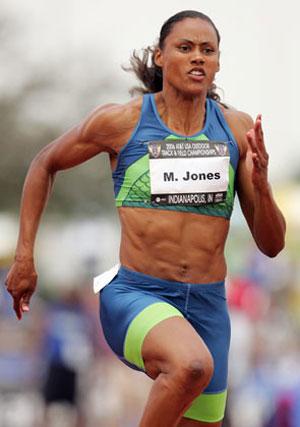 Disgraced Olympic sprinter Marion Jones signed a contract on Wednesday to play with the WNBA's Tulsa Shock in a bid to revive her athletic career.
The WNBA marks a second chance for Jones, who was stripped of five Olympic medals for using performance-enhancing drugs and sent to prison for lying about her steroid use, which ended her track career.
"I'm extremely excited to join the team and the WNBA," Jones said in a statement on the WNBA website.
"After a lot of thought, I realized this is a great fit for me because of coach Richardson's uptempo style of play," she added.
Jones attended the University of North Carolina on a basketball scholarship, where she played point guard and helped lead the Tar Heels to a 92-10 record over three seasons and a national championship in 1994.
Drafted by the Phoenix Mercury in the third round of 2003 WNBA draft, Jones still ranks fifth on North Carolina's career assist list, third in steals and seventh in blocks.
Jones is sure to bring some badly needed attention to the WNBA and Shock coach Nolan Richardson said he is confident the 34-year-old former-sprint queen will be able to rediscover her college form.
"Watching her go through drills, I saw a player who's perfect for our system," said Richardson. "The one thing I do know is she can run, and any player on my team who wants to be successful needs to be able to run."
Jones won three golds and two bronzes for the United States at the 2000 Sydney Olympics, where she was the golden girl and smiling face of the Games. But she was sentenced to six months in jail in January 2008 for lying to federal prosecutors about using performance-enhancing drugs.
"She made some ill-advised decisions in the past, but everyone deserves a second chance to excel at something they love," said Shock president Steve Swetoha.
"The city of Tulsa gave a struggling franchise from Detroit a second chance, and I'm confident it will do the same for Marion."