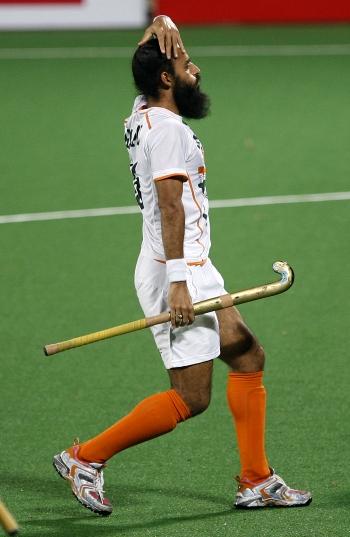 Out of contention for a top-five finish after three consecutive defeats, India would be desperate to end their losing streak when they take on lowly but spirited South Africa in their last pool B match of the hockey World Cup at the Dhyan Chand National Stadium on Monday.
A win against South Africa will not only give the ardent hockey fans something to cheer about but also secure India's place in the seventh-eighth place play-off match, which would definitely be a considerable improvement from their 11th place finish in the 2006 World Cup in Monchengladbach, Germany.
However, achieving it won't be a cake-walk as South Africa are on a high after registering their first-ever victory in the World Cup.
After stunning Pakistan 4-3 in their last match, the Proteas would be looking for another upset and going by their performance in the last encounter, the possibility is not a distant dream.
The Indians don't seem to have learnt from their past mistakes as for the third consecutive match, the home team committed the same blunders which put paid to their hopes in the tournament.
The Indian defence yet again crumbled under pressure and on more than one occasion found itself in a hole. Like in the earlier two games, the home team was on the back-foot from the beginning after conceding early soft goals.
The Indians left plenty of open spaces in the field, man-to-man marking seemed to have gone for a toss. To add to it, horrible trapping, mindless passing and unnecessary dribbling continued unabated. And if they continue the same, a rude shock may await them tomorrow in the form of South Africa.
While Sandeep Singh and Dhanjay Mahadik continued to be failures in penalty corner conversions. But Gurbaz Singh, Arjun Halappa and captain Rajpal Singh will look to carry on their good showing against the South Africans.
"We did not learn from the past mistakes against Spain. The first goal we conceded was similar to the one Spain scored against us. If you commit these kind of mistakes at the top level competitions you have to pay for it.
"But all these cannot be changed in a short time. We need many more matches at the top level to rectify all these mistakes. We did not have that in the build-up to the World Cup. Seven months is too short to sort out those things and without playing international matches," India coach Jose Brasa had said.
However, there are some positives that India can draw from the England encounter. The Indian mid-field yet again dished out a fine performance with Gurbaz Singh being outstanding on the right and giving him due support were Arjun Halappa and Sardar Singh.
The forward-line also picked up their pieces and looked menacing against the English but what they lacked was finishing. But the most notable thing, which the Indians have earned in this tournament, is their fighting spirit.
"We are improving with every match. In every match, the boys fought till the last breath," Brasa said.
On the other hand, by virtue of their victory over Pakistan, South Africa yesterday proved that they are not here just to add up the numbers.
With the win against Pakistan, the South Africans have already achieved what they aimed for in this tournament.
They have nothing to lose and only to gain from the India encounter, which would definitely be more than enough motivation for them to come out full throttle against the Indians.
India coach Brasa too admitted that the Proteas would be a tough team to compete against.
"South Africa is a very good side. They played very well against Pakistan, Spain and England. It will not be an easy match for us against them," he said.
"It is not going to be easy against any side in a World Cup. Had we been in Pool A also it would have been tough as there also the teams are strong," Brasa added.
Meanwhile, in other matches of Pool B England will face Spain while title favourites Australia will take on a bruised Pakistan.
Even the other two games carry hardly any significance in the context of semifinal standings as England has already booked their place in the last four with four out of four wins.
In all probability, joining them will be Australia who has three victories out of their four matches.
With six points out of four matches, Spain is not out of race yet mathematically. But for that to happen, the Spaniards will first have to pray for an Australia defeat at the hands of Pakistan and then hope for a gigantic victory against England, something that is next to impossible.
Pakistan would face-off against Australia eyeing to prove a point or two to its detractors but looking at the ruthless form of Aussies it won't be easy for the Zesshan Ashraf-led side.