Juergen Klinsmann said he was looking forward to getting back into coaching and optimistic about the right offer coming along after this year's World Cup.
The former Germany coach, who will work as a TV analyst for Germany's RTL network in South Africa, told reporters on Friday he was prepared to wait for the right opportunity.
"I'm not impatient," said Klinsmann, who also coached Bayern Munich before being sacked near the end of the 2008-09 Bundesliga season with his team lying third in the standings.
"I'm definitely going to get back into coaching and it's quite possible there'll be something challenging in store after the World Cup," Klinsmann, 45, said.
"When it's part of your genetic make-up, you're always thinking about how this or that coaching job might develop."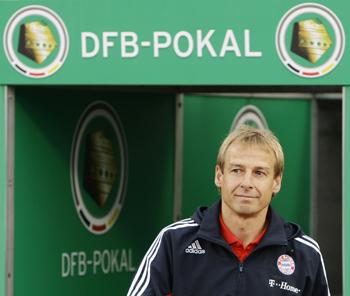 Klinsmann, who led Germany to third place in the 2006 World Cup, has studied Spanish, sports medicine and other developments in coaching.
"That's the nice part about being between jobs is you have the time to work on developing new skills and learning more," said the former Germany striker, who moved with his family back to California last year.
NO REGRETS
Klinsmann said he had no regrets about taking the Bayern Munich job in 2008.
"It was an important life experience," he said. "I learned a lot from the experience and it will help me down the line."
As Germany coach he went from being a novice who made the German federation nervous with his unorthodox methods to a national hero when he led his unfancied team to their surprise third-place finish in the World Cup.
Klinsmann drew praise and criticism for his team's attacking style of play, hiring fitness trainers and a team psychologist and including young untested players.
Klinsmann warned against reading too much into Germany's 1-0 loss in a friendly against Argentina on Wednesday.
"It's not going to have any effect on what happens in three months," he said. "There'll be plenty of time for the team to prepare for the World Cup. Right now a lot of players are caught up in the Bundesliga and Champions League end-run stress."
Klinsmann said Germany had a great advantage in having so many players in their mid-20s with around 50 caps.
"All the experience is a huge plus," he said. "And besides all that Germany are always a tournament team."