China took it easy in this week's 2-0 friendly defeat to Portugal for fear of injuring Real Madrid forward Cristiano Ronaldo and ruling him out of the World Cup, according to coach Gao Hongbo.
France striker Djibril Cisse suffered a broken leg after a challenge from China's Zheng Zhi in a warm-up match for the 2006 World Cup, ruling the former Liverpool striker out of the finals.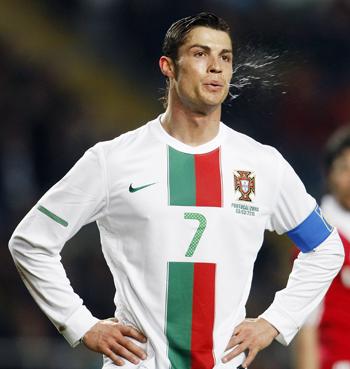 "There are so many superstars in the Portugese team, especially Cristiano Ronaldo. We didn't want to see a repeat of the Cisse tragedy. We don't want a World Cup without Cristiano Ronaldo because of our fault," Gao told Chinese media.
"We played conservatively on the pitch because our players wanted to hurt neither themselves nor the Portuguese players."
China, who have qualified for the World Cup just once, will not be going to South Africa having fallen at the first hurdle in Asian qualifying two years ago.
Although an ongoing match-fixing scandal has only made Chinese football's already miserable reputation worse, Gao's team gave it a surprise boost when they won the East Asian championship last month.
A draw with Japan, a first victory over South Korea for more than 30 years and another victory over Hong Kong have clearly given Gao confidence that China are ready to take on tougher opponents.
"From this year on, Team China will not be satisfied by just playing Asian teams. We will upgrade our opponents in friendlies," Gao, whose team are 83rd in the FIFA world rankings, told the Soccer News.