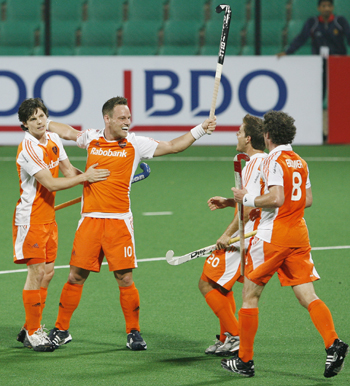 The Netherlands captain Tuen de Nooijer said his side could have defeated New Zealand by a bigger margin had they not wasted their chances galore in the second half of their Pool A match on Wednesday.
Nooijer said the Dutch had improved upon their performance from the last match but squandered a lot of goal-scoring chances.
"We played good hockey in the first half. We were 1-0 down in the first minute but came back strongly to win the match convincingly. We had more chances in the second half but we missed, otherwise we could have won by a bigger margin," he told reporters.
The Netherlands beat the Black Sticks 3-1 in their second Pool A match at the Major Dhyan Chand National Stadium.
"We have improved a lot. The good thing is that we have scored more field goals today," he added.
The Netherlands coach Michel van den Heuvel also rued the missed chances but said he was more than happy with his side's performance. "I am happy. We are aiming to get better with every match. We have improved a lot from the last match. We created a lot of chances. We expected to score more goals if you look at the number of chances we got," Heuvel said.
Goalkeeper Guus Vogels also admitted that they should have put up a better performance in the second half.
"To be honest we played well, we have improved a lot. We should have scored a little bit more in the second half but 3-1 is a good result," he said.
New Zealand captain Phillip Burrows said missing penalty corners and conceding soft goals did them in against the Dutch.
"We missed our penalty corners and that is an area of concern. We also conceded soft goals," he said.
The Kiwi skipper said they cannot afford to repeat the same mistakes against Korea in their next match on Friday.
"We have to recover from this defeat early. Korea is a dangerous side and have to ensure that we don't give them many penalty corners," Burrows said.