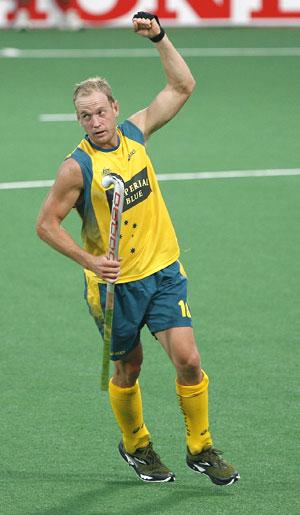 Title favourites Australia registered the biggest win in the history of the hockey World Cup, inflicting a humiliating 12-0 defeat on South Africa in a Pool B match in Delhi on Thursday.
The overwhelming win is the biggest in terms of goals in a World Cup match.
The earlier record was in the name of Pakistan, who had mauled New Zealand 12-3 in the 1982 edition of the event.
Luke Doerner converted four penalty-corners while veteran Jamie Dwyer and Glenn Turner scored two field goals each as World No 2 Australia toyed with South Africa and made the Proteas look like a club side.
After some early jitters Australia took control with speedy forays and brisk counter attacks and scored goals at will -- five in the first half and seven after the change of ends -- to sound a warning bell for other teams.
Doerner (16th minute, 34th, 49th, 66th 68th), Dwyer (52nd, 54th) and Turner (20th, 62nd), Desmond Abbott (26th), Fergus Kavanagh (35th) and Matthew Betturini (44th) scored for Australia.
Australia went ahead through Doerner, who converted their second penalty-corner in the 16th minute, and four minutes later Turner made it 2-0 for the Olympic silver medalists with a nice field goal.
Turner scored his third goal in the tournament after Dwyer set it up for him from a fast paced counter attack.
The Aussies pumped in another in the 26th minute through Desmond Abbott whose reverse stick shot beat South African goalkeeper Brendon Bodes all ends up.
As if that was not enough, Ric Charlesworth's boys scored two more in the last two minutes of the first half through penalty-corners.
Doerner found the net again with an immaculate drag-flick in the 34th minute and then Fergus Kavanagh scored off a rebound after the set-piece was saved by custodian Botes.
The second period was no different as Australia pumped in seven more goals. Betturini extended the lead in the 44th minute and five minutes later Doerner scored his third goal of the game, making full use of their fifth penalty-corner.
With his team ruling the roost, veteran Dwyer joined the party, scoring two field goals in the 52nd and 54th minute.
Turner scored his second when he deflected home a Mark Knowles cross from the left flank.
Doerner was unstoppable as he added two more to his tally in the last four minutes of the match, first a field goal and then from a set piece to pile on South Africa's agony.
With this win, Australia have six points from three matches and will take on Spain in their next Pool B match on Saturday.
South Africa, on the other hand, are out of the semi-final race. Having lost all the three matches they played, they are languishing at the bottom of the points table.
The Proteas face Pakistan in their next match on Saturday.