He is one of the most lethal drag-flickers the world has ever seen, but for Taeke Taekema Pakistan's Sohail Abbas is the"king of penalty corners" just by the sheer magnitude of his conversion rate.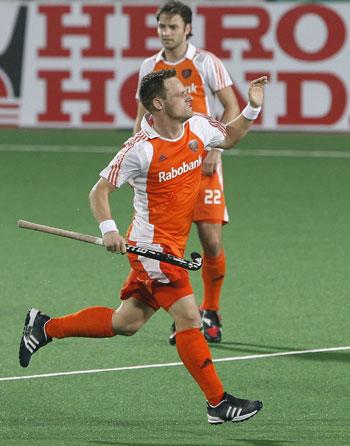 Sohail's has more than 300 international goals to his name and Taekema feels the veteran Pakistani drag-flicker is the most prolific scorer the world has witnessed.
He also lavished praise on Indian Sandeep Singh, who according to him has made remarkable improvement in his drag-flicking skills.
"Sohail Abbas is the king of penalty corners because of his goal scoring record. He scored the most goals from penalty corners, so definitely he is the best in the world," Taekema said.
"But Sandeep is very talented and has improved his skills. Both the players played in the Dutch league, so I have seen them a lot," he said.
Taekema on Monday registered the first hat-trick of the on-going World Cup by converting three penalty corners in their 3-0 win over Argentina at the Major Dhyan Chand National Stadium in New Delhi.
With this hat-trick, Taekema is just one goal away from equalling legendary country-mate Floris Jan Bovelander's 17 World Cup goals record, but the 30-year-old drag-flicker said what matters to him is team's performance and not individual goals.
"I don't have any personal goal for the World Cup. If I were after individual goals, I would have played a game like tennis, not hockey. My job is to convert penalty corners and I always try to do my best," said Taekema, who was the highest scorer of the 2006 edition of the quadrennial event in Monchengladbach with 11 goals.
"Penalty corners are small part of the game besides that I am a defender also. I have to do well in the defence also."
Asked about the recipe behind his success, Taekema said there is no alternative to practice.
"It's just practice, years of practice. That's the main thing. If you keep on practising one thing day in and day out for the last 15-16 years, you are bound to master it. You also need to fine-tune your skill and then getting the right rhythm is also very important," he said.
"If the push and trap is spot on, it makes my job easier."
Taekema is only the third player after Australia captain Jamie Dwyer and German player Christopher Zeller to have got a hockey stick produced in his name by sports apparel maker Adidas.
Taekema struck record 16 goals, including a double hat-trick against Belgium in the semi-final of the 2007 European Championships in Manchester. And in celebration of his record breaking feat, Adidas introduced its limited edition TT10 hockey stick, which has Taekema's initials and jersey number incorporated in it.
"It's just that I work together with Adidas to create the sticks and they put my initials and jersey number in it," said the modest Dutch player, who won the Champions Trophy four times with his national team.
He feels the Dutch will have to come out with an improved showing in their remaining matches if they desire to pocket their fourth World title.
"We played a very hard game against Argentina in the first match. The goalkeeper (Guus Vogels) played terrific. He saved us on quite a few occasions. So we need to perform much better in the next matches," he said.
"We definitely have to perform better to have a chance in the tournament," added Taekema, who was member of the Athens Olympics silver medal winning Dutch side.