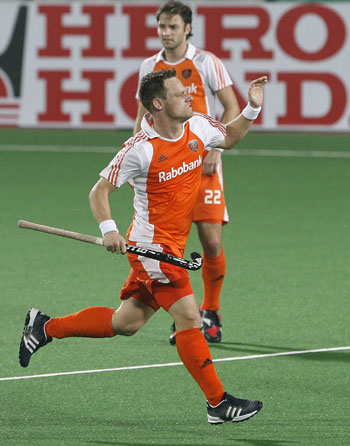 Veteran drag-flicker Taeke Taekema scored the first hat-trict of the tournament as the Netherlands blanked bottom-ranked Argentina 3-0 in their Pool A hockey World Cup match in New Delhi on Monday.
Taekema struck in the 14th, 35th and 61st minute as three-time champions the Netherlands stamped their class against Argentina who are the lowest ranked team in the 12-team tournament at 14th.
With the hat-trict today, Taekema is just one goal away from equalling legendary country-mate penalty corner specialist Floris Jan Bovelander's 17 World Cup goals.
The Dutch won three penalty corners in the first half and Taekema, who took all of them, converted two. He then added another goal to his kitty in the second half to score the first hat-trict of the tournament under floodlights in front of a handful of spectators at the Major Dhyan Chand Stadium.
Taekema, one of world's best and most experienced drag-flickers, scored of the first penalty corner when he smashed the ball to the right upper corner of the Argentine net in the 13th minute to notch up his first goal.
His second goal came in the third penalty corner of his side, which he sent to the bottom right corner of the Argentine goalpost in the 34th minute.
In between, Billy Bakker had a golden opportunity to score from close range for Argentina but the ball hit the crossbar in the 21st minute.
Argentina pressed for goals in the second session with some fine moves, particularly by Agustin Mazzilli but veteran Dutch goalkeeper Guus Vogels made some fine saves to keep their slate clean.
In the 46th minute, Vogels blocked a Matias Enrique Paredes scoop in a one-on-one situation inside the striking circle.
Next minute, Vogels again intercepted a minus pass from Lucas Rafael Rossi from near the goalpost to clear the ball tosafety.
However, with nine minutes to go in the match, Taekema came back again to haunt the Argentines when his drag-flick found the gap between goalkeeper Juan Tomas Espinosa's legs straight into the goalpost.
Argentina play Korea in their second Pool A match on March 3, while the Netherlands take on New Zealand on the same day.
© Copyright 2023 PTI. All rights reserved. Republication or redistribution of PTI content, including by framing or similar means, is expressly prohibited without the prior written consent.