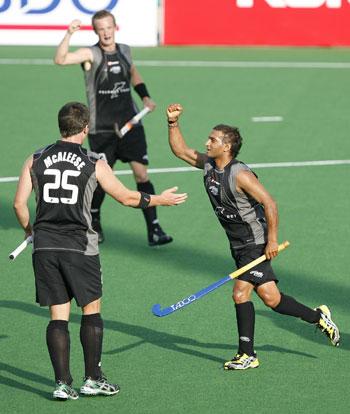 A resilient New Zealand twice came back from behind to beat a fighting Canada 3-2 in a Pool A opening match of the hockey World Cup at Dhyan Chand National Stadium on Monday.
The Black Sticks, who were trailing 1-2 at the breather, made a strong comeback in the second session to start their World Cup campaign on a winning note.
Indian-origin player Priyesh Bhana (11th minute), Nicholas Haig (47th) and veteran play maker Ryan Archibald (67th) scored for New Zealand.
For Canada, who were dominant till midway of the opening session, Mark Pearson (2nd minute) and Philip Wright (20th) found the target.
Even as the hundred-odd spectators barely settled down, Pearson sounded the board with a fine field goal in the second minute following a scramble inside the striking circle.
New Zealand striker Priyesh Bhana, who made it to squad after Simon Child pulled out of the tournament due to security fears, made a fine turn inside the Canadian circle and even though his first attempt was blocked by goalkeeper Kyle Pontifex, he scored from the second attempt to restore parity in the 11th minute.
Canada, ranked three places below New Zealand at 11th, took the lead again in the 20th minute through Philip Wright.
After receiving a precise pass from the deep, Wright unleashed a powerful shot but found on the way the New Zealand goalkeeper who did not know where the ball had landed. Wright sent the ball home with a reverse shot.
The Canadians protected their lead at the breather by thwarting several New Zealand moves many of them initiated by veteran Ryan Archibald and another seasoned campaigner and captain Philip Burrows.
After the breather, New Zealand continued to put pressure and they again found the equaliser in the 47th minute with defender Nicholas Haig scoring from their first penalty corner -- the first of the match also.
It was a nice penalty corner variation with Andrew Hayward positioned to take the strike before passing it to Haig who drag-flicked the ball to the Canadian net.
In the 62nd minute, Canada got their first penalty corner, which led to their second but failed to score.
In the last minute of the match, Canada were also deprived of a penalty corner as the video umpire overruled referee's decision after an appeal by New Zealand.
Canada play defending champions Germany in their next Pool A match on March 3 while New Zealand take on the Netherlands on the same day.