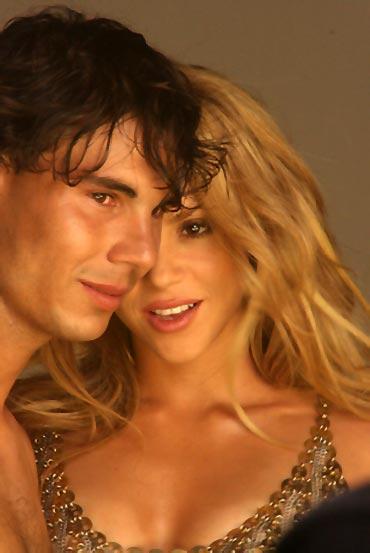 Shakira leans over and croons to Rafael Nadal "I'm a gyspy, are you coming with me? I might steal your clothes and wear them if they fit me."
The Spanish tennis star, hair tousled, shirt undone, tie loosened, strikes a sultry pose for L'Homme Sport, a new fragrance by Lanvin. It promises to give off a smell of "aristocratic ease."
Making a pop video with the Colombian singer, smelling good and looking sharp for a French perfumier - this is a whole new look for the newly reinstated world number one.
Gone are the cut-away tops that showed off his bulging biceps and were twinned with pirate trousers and bandanas. Now it is all preppy polo shirts and regular shorts.
For rebranding one of the world's most popular and recognisable sports stars is a multi-million pound business with everyone from banks to watchmakers, from insurance companies to car manufacturers queuing up for a slice.
"Nadal is following a well-trodden path like actress Angelina Jolie or pop stars like Madonna," said John Taylor, chairman of public relations and sponsorship agency Sports Impact. "Their personalities lend themselves to promoting brands."
Nadal, with his clean-cut good lucks and image as the hometown boy from the island of Majorca, is the perfect fit.
Bidding to land his second Wimbledon title after missing last year with sore knees and grappling with his parents' divorce, Nadal has said "I'm happy in Majorca, it's home. Why would I leave?"
His uncle and coach Tony has always sought to keep his young charge firmly grounded in reality. That image is now paying rich dividends for the 23-year-old Spaniard.
In a bygone era it is difficult to imagine Rod Laver or even Pete Sampras stripping down to the waist for a pop video.
Daily Telegraph sportswriter Mark Hodgkinson, delivering his verdict on the Shakira video, said of Nadal "He shows that he can nuzzle, snuggle and cuddle almost as well as he can hit whippy top spin forehands."
Nadal certainly ranks as an image-maker's dream.
"He appeals to both sexes. He is athletic and well-built and has cross-over appeal. That is the key," said sports marketer Taylor.