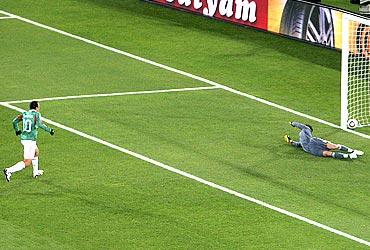 In this World Cup series, France native Claude Arpi, who has lived in India for 36 years, captures the fan's passion for football in an ongoing e-mail exchange with Ivan Crasto, Rediff.com's Sports Editor.
Read Claude's first e-mail here
You can find his second e-mail here
And his third here
Dear Ivan,
Last night I was inspired. At half-time in the France-Mexico game, I decided to go to bed. I had had enough of the insipid French game. On waking up this morning I read about the logical conclusion of Les Bleus' epopee.
C'est fini, c'est la vie!
I had mentioned Zinedine Zidane's remark in my earlier e-mail, but the problem goes deeper than just 'wealthy' egos, the choice of the coach was wrong. First, because he is not knowledgeable enough for this well-paid job -- he earned Euros 750,000 (about Rs 4.3 crore) just for the qualifications to South Africa) -- but more importantly, he was not able to build a team/group of friends wanting to win.
A few hours before the crucial match against Mexico, a French journalist reporting from South Africa explained that the atmosphere in the luxurious resort was awful; players had formed clans, were not even speaking to each other. I personally think that money has spoiled the minds of some of these guys.
Domenech has been the most hatred personality in France for the last two years. Like Americans have Bushisms, French will have Domenechisms (his most indecent pronouncement being after the elimination of the French team from the Euro 2008 tournament; when asked during the press conference to comment on the French rout, he asked his fiance to marry him on live TV).
Frankly, I am relieved today; the French team should not have got the 'divine' (Thierry Henry's hand) qualification in the first place.
More interesting was the Argentina-South Korea game, a great demonstration by the South Americans. I don't think Diego Maradona is such a great coach, but at least his players are able to give a demonstration of efficiency. Lionel Messi didn't have to do too much, his presence only attracts three opponents. That is why it is better to have him in your team than against you.
I was quite happy to see the Greeks coming back after an earlier goal from the Nigerians. Keita did the most stupid possible gesture, I wonder what went wrong in his head (he covered it in shame after getting his red card). It was the turning point of the match.
In this second round of the qualifications for the pre-quarters, it seems that more goals will be scored. Good for the spectators and TV watchers.
For us, this World Cup is tiring, physically and psychologically, though we don't have to suffer the throes of winter and can enjoy the monsoon (though Mumbaiwallas would perhaps wish for a smaller dose).
With the vuvuzela blues
Claude
Image: Mexico's Cuauhtemoc Blanco scores a penalty against France. Photograph: Radu Sigheti/Reuters