Throughout the World Cup, Rediff.com will bring you superb features that capture the heat and dust of the Great Game.
In this series, France native Claude Arpi, who has lived in India for 36 years, captures the fan's passion for football in an ongoing e-mail exchange with Ivan Crasto, Rediff.com's Sports Editor.
Read Claude's first e-mail here.
You can find his second e-mail here
Dear
Ivan
,
What suspense!
I never thought that the Swiss defenders would hold on to their goal. I have rarely seen such domination. Statistics say the Rosa kept the ball for 72% of the time during the first half, but the Swiss Guard did not surrender.
I thought that they would during the 5-minute injury time, but finally they managed to score the greatest upset (so far) of the tournament.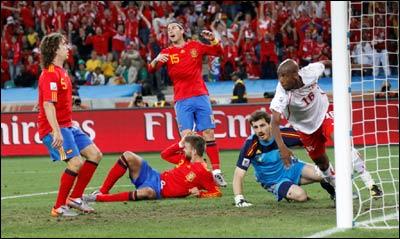 The Swiss have one of the best defences of the tournament. They had played a similar feast against Les Bleus (the Frenchies) in 2002 in Korea. The French had won the World Cup in 1998 and were, like Spain today, the great favourites when they crashed against the Vaults of Switzerland.
I could not see the South Africa-Uruguay match. Though it is sad for the Bafana Bafanas, it reminds us that they are only 88th in the FIFA classification; David can't defeat Goliath all the time (though Forlan is good, he is not Goliath as yet).
In any case, it is appreciable that some goals were finally scored. Except for Germany-Australia, hundreds of millions of football fans (and new aficionados) have been truly starved during this first round of the qualifications. Only 25 goals during the 16 first matches (1.56 goals/match).
It is apparently the worst crop of goals ever (the lowest average was earlier 2.21 during the 1990 Cup in Italy).
I have changed my mind about the vuvuzelas. Though I have so far signed off these e-mails 'with vuvuzelas', I have had serious doubts about the culture of South Africa being represented by these noisy plastic trumpets.
Yesterday I heard a piece on the Web site of the French daily Le Monde which pleasantly surprised me. A Spanish musicologist -- known as 'Petro the Musicman', collecting traditional songs from South Africa -- has recorded a tune called Shayangomoya.
Originally a traditional song, it became a protest song during the apartheid era. The words asked Oliver Tambo, then African National Congress president, to meet South African President F W Botha to request him to free Nelson Mandela.
For the World Cup, the lyrics have been slightly adapted: 'Strike intelligently and send the ball in the net.'
Click here to listen to Shayangomoya (Sorry, the site is in French, but just click on the blue 'play' icon). I find it great.
With "new" vuvuzelas
Claude
Image: Spanish players react after Switzerland's Fernandes scored during Wednesday's match. Photograph: Michael Buholzer/Reuters