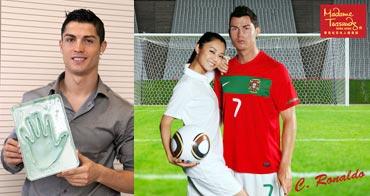 Portuguese footballer Cristiano Ronaldo, or rather his incredible wax likeness, visited Hong Kong for the first time ever to meet his adoring fans during the ongoing 2010 FIFA World Cup in South Africa.
The highest-paid football player in the world, Ronaldo's wax figure was jointly launched at Madame Tussauds museums in Hong Kong and London.
Fans can try out their football skills with the talented footballer and also be photographed with him till October 17, 2010.
"I have been excited ever since the Madame Tussauds team came to measure me for my wax figure. I cannot wait to see the finished figure in person," the Real Madrid midfielder said.
"Cristiano Ronaldo is an extremely talented football player who has progressed through his youth ranks to the current international level, and made numerous headlines for his football prowess. We are pleased to welcome his wax figure to the attraction," Bret Pidgeon, General Manager of Madame Tussauds Hong Kong and Shanghai, said.
Ronaldo's sitting was held at Real Madrid's training ground in Madrid, Ciudad Deportiva Valdebebas, on December 17, 2009. His wax figure, which was on tour, is now fitted in the Portuguese football uniform and displayed at the Main Entrance of the attraction in Hong Kong, alongside with David Beckham and Ronaldhino to create hype during the 2010 FIFA World Cup in South Africa.