As Roger Federer heads to Wimbeldon this weekend, having lost eight of the nine tournaments he entered this year, Bikash Mohapatra believes his impeccable pedigree on grass is enough to ensure him another Big W title.
Roger Federer was beaten yet again last Sunday.
It was his eighth defeat in nine tournaments this season, but this loss came on his favoured surface, grass.
Lleyton Hewitt ended a 15-match win-less streak against the Swiss ace with a 3-6, 7-6 (4), 6-4 victory at the Gerry Weber Open title in Halle.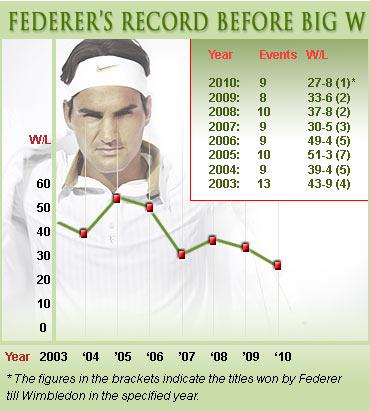 Coming in the wake of Federer's French Open exit and close on the heels of next week's Wimbledon tournament, this loss leads to a few questions.
Is Federer losing his touch?
Has lack of objectives -- the Swiss has now won everything the sport has to offer -- made him more vulnerable than ever before?
Has fatherhood taken away Federer's motivation?
Before you wonder if I am composing Federer's career obituary, let me clarify that it is not.
Many friends (and ever concerned Federer fans) though keep asking if the Swiss star's career is on the downslide and if he is going to win again.
As cricket commentators keep saying: Form is temporary, class is permanent.
If one does a reality check, statistically this phase appears as the worst in Federer's recent career.
Since overpowering Scot Andy Murray to win the Australian Open -- his 16th major -- in January, the Swiss has failed to add to his 62 career titles, with a loss (to Rafael Nadal) in the Masters Series final at Madrid being his only other final appearance.
Federer's win-loss record this year, going into Wimbledon, reads 27:8. Disappointing numbers considering his lofty standards and, personally, his worst stats since his career peaked in 2003 (see graph).
A quick glance at the defeats he suffered this year indicates a disturbing trend is developing for Federer.
Some players who got the better of him this year -- Marcos Baghdatis (Indian Wells), Tomas Berdych (Miami), Robin Soderling (Paris) or, for that matter, Hewitt -- are players who he had dominated thus far.
In preceding years -- when Federer was synonymous with tennis triumph -- such defeats could have been brushed aside as minor glitches.
In 2010, they have become commonplace and somewhat expected.
Also worrying is the fact that going into Wimbledon -- where he is chasing a record-equaling seventh title -- he has suffered two of the worst defeats of his career; worst, not because of the rankings of the players he lost to, but because they brought an end to two of his winning streaks.
When Soderling beat Federer at Roland Garros earlier this month, it wasn't only the Swede's first win in 13 meetings against Federer but also the first time the latter had failed to reach the semi-finals of a Grand Slam tournament since the 2004 French Open -- an amazing record that covered 23 major tournaments.
Going into the final at Halle the following week, Federer, besides his impeccable recent head-to-head record against Hewitt, had also won his previous 29 matches at Germany's lone event on grass, having not lost a match since a semi-final defeat to Nicolas Kiefer in 2002 (he did not play in 2007, 2009).
He had also won 76 of his past 77 matches on his preferred surface -- grass -- the only blemish being a five-set defeat to Nadal in the 2008 Wimbledon final.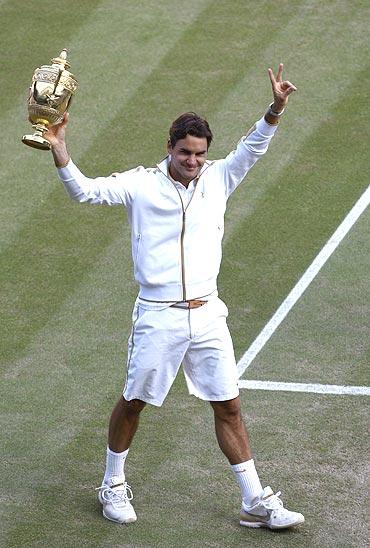 The loss to Hewitt ensured that Federer would head to Wimbledon having won only one tour-level title in the first six months of the year, for the first time since 2001.
And as I mentioned earlier, with his worst win-loss record in the last nine years.
All is not lost though.
If numbers are the indicators, Federer has enough going in his favour as he chases yet another record.
Federer first came into prominence when he beat seven-time champion Pete Sampras in the pre-quarters at the Big W in 2001.
He has since made the trophy virtually his own.
In 11 appearances at the All England Club, he has walked away with the silverware on six occasions (2003 to 2007 and 2009) and made it to another final (2008).
Federer has won whopping 51 matches at Wimbledon against just five defeats -- four of those coming in his formative years.
That gives him an impressive winning percentage of 91:7 in the world's premier tennis competition.
His record on grass -- 92:13 -- is one of the best of all-time and the second best among active players (Hewitt leads with a 98:23 record).
Federer has over the years earned the reputation as a big match player and his pedigree in major finals is something that cannot be questioned.
Fans worried after his loss in an ATP 250 final can rest assured, major finals are a different ball game altogether.
Having won almost everything the sport has to offer, Federer can be pardoned if his intensity levels have dropped following his French Open triumph -- the lone Grand Sklam title missing from his cabinet of trophies till then -- last year.
Defeats against journeymen may have become more frequent than they ever were in recent years.
But there is no questioning his class. And it is that class which may add a couple of more major titles to his name.
The man himself seems confident about his chances.
'I'm happy with the way I'm playing,' he was quoted as saying after his loss at Halle.
'This loss here doesn't worry me in any way. I'm excited about next week,' he added.
I would like to believe him. For Roger Federer, the grass is still green!
Graphic: Uday Kuckian