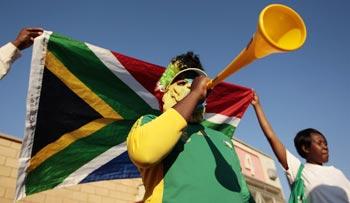 Portugal captain Cristiano Ronaldo has joined the long list of football players and officials who have voiced their concern over the use of 'Vuvuzelas', which are creating an ear-shattering experience during the ongoing FIFA World Cup in South Africa.
Ronaldo said that the sound produced by vuvuzela trumpets disturb the players' concentration.
"It is difficult for anyone on the pitch to concentrate. A lot of players don't like them, but they are going to have to get used to them," Sports24 quoted Ronaldo, as saying.
South African fans believe that vuvuzelas will blow their opponents away, and turn other teams to jelly. Practised players can generate an awesome 127-decibels, a level humans rarely encounter outside war zones or Twisted Sister concerts.
"Teams have done nothing but criticise the vuvuzelas, but you have to respect them. Hardly anyone likes them, but the people who do like them are those who like to blow the instruments and make a racket," Ronaldo said.
Ronaldo also said that he was getting used to the much-criticised World Cup match ball.
"I'm more used to it than I was two weeks ago. I don't think it will be a problem. We've trained enough with it to get accustomed to it and I'm sure the dribbles, the shots and the corners with it will all be fine," he added.