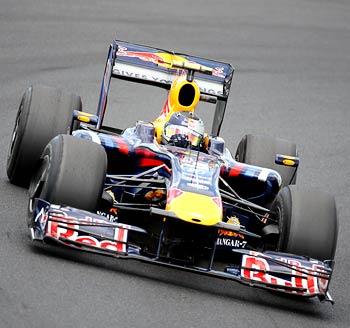 Red Bull are pinning their hopes that a calculated gamble that may have ended the team's run of pole positions will deliver them victory in Sunday's Canadian Formula One Grand Prix.
The Red Bull pairing of Mark Webber and Sebastian Vettel had shared pole position in the last seven races this season but sacrificed a chance for an eighth with a risky strategy they believe will pay off off during the race.
Instead of qualifying on the softer optional tyres, which are considered faster for a single lap but deteriorate quickly, both Red Bull drivers opted to qualify with a harder compound, which is slower but lasts much longer.
They were pipped for pole position by McLaren's Lewis Hamilton, who was using the softer tyre, but managed to claim the next two spots with Webber second and Vettel third.
"We knew that the McLarens were still very strong on the option tyre if they elected to take it (but) obviously it's a long race tomorrow," said Webber. "This is something which hopefully will be beneficial to us."
Vettel, who had a scrappy qualifying session that included running over a chicane, was also confident the team employed the best strategy.
"I'm happy that both Mark and I made it to these positions with what is, from my point of view, the right tyre," Vettel said. "The practice sessions showed that the soft tyre is quite difficult to last for more than a couple of laps."
The issues of tyre wear, or graining, has dominated talk in the Formula One paddock at Montreal over the past two days with all teams struggling for grip and balance on the rarely used street circuit.
Under the sport's regulations, teams must races with the same tyres they used in qualifying, and while teams generally opt for the same tyres, there has been differing opinions at this race with Ferrari joining McLaren by choosing soft tyres.
"I guess we'll see who is right in 24 hours," McLaren team principal Martin Whitmarsh said.