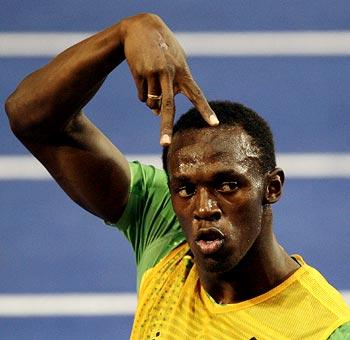 Triple Olympic champion Usain Bolt is on the road to recovery from a sore Achilles that kept him off the track for two weeks, the Jamaican said on Saturday.
"So far it's feeling good and the treatment is working," Bolt told NBC television in an interview at the New York Diamond League meeting, where he was a spectator.
He had been scheduled to run a 100 metres but pulled out late last month as a precautionary measure after his left Achilles became inflamed.
Wearing a white New York Yankees cap and a long-sleeve sweatshirt, Bolt watched fellow Jamaican Veronica Campbell-Brown run the year's fastest women's 200 metres before chatting about his recovery and the upcoming season.
"It is not serious, but my doctor said you have got to take an Achilles injury very seriously so he told me to take a couple of weeks off to make sure I could get better," Bolt said.
"I'll be starting back (training) next week."
His next race will be a 200 metres in Lausanne on July 8.