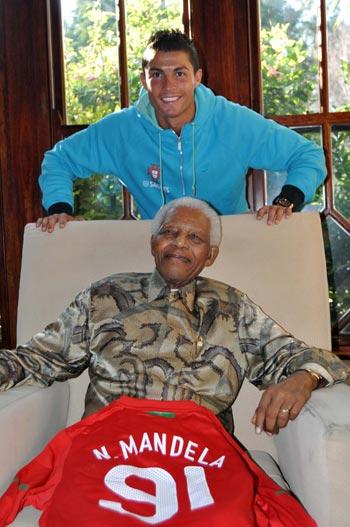 Portugal winger Cristiano Ronaldo and coach Carlos Queiroz visited former South African president Nelson Mandela and offered him a team shirt with his name on the back, the Portuguese Football Federation said on Thursday.
"As result of a personal invitation from the former South African leader to visit him at his home in Johannesburg, they (Ronaldo and Queiroz) had the chance talk to him," the federation said in a statement.
"They also had the pleasure of offering Mandela a Portugal shirt with his name and the number 91, alluding to the former president's age, printed on the back," it added.
Mandela, who turns 92 next month, is increasingly frail and rarely appears in public, but earlier on Thursday organisers and his family said he firmly intends to make a brief appearance at Friday's World Cup opening match between the hosts and Mexico.
World Cup organisers say the presence of Mandela, revered globally for his role in fighting apartheid and leading South Africa to democracy, would be a highlight of the month-long tournament.
Source:
© Copyright 2020 Reuters Limited. All rights reserved. Republication or redistribution of Reuters content, including by framing or similar means, is expressly prohibited without the prior written consent of Reuters. Reuters shall not be liable for any errors or delays in the content, or for any actions taken in reliance thereon.