Italy seldom has an opportunity to herald individual success on the tennis court, so Francesca Schiavone's French Open triumph was greeted with banner headlines and praise from politicians to popstars on Sunday.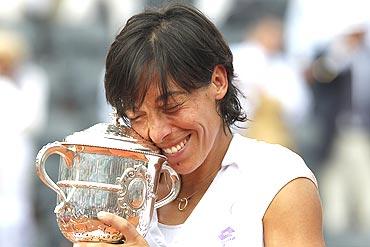 Saturday's 6-4, 7-6 win over Australia's Sam Stosur enabled the 29-year-old to become the first Italian woman to claim a Grand Slam singles title and the first person from her country to achieve the feat since Adriano Panatta at Roland Garros in 1976.
"A really wonderful thing has happened," Panatta said. "The credit all goes to Francesca. Sure she will have had people around her who helped but in the end it's the one who goes on court who counts."
Schiavone's Paris triumph received top billing in Italy's Sunday newspapers despite the national soccer team playing their final World Cup warm-up and MotoGP world champion Valentino Rossi breaking his leg.
"Historic victory," read the front page of Gazzetta Sportiva, the Sunday version of the mass circulation Gazzetta dello Sport.
"Francesca is the first Queen of France."
The front page of Corriere dello Sport simply labelled her triumph "mythical".
Italy's women are the current Fed Cup champions so interest in the sport has been growing, now Schiavone's win is set to lead to the nation's tennis courts being fully booked in the coming weeks.
"Francesca Schiavone has done a great favour for all sport," said Fed Cup captain Corrado Barazzutti, who was in the stands in Paris as Schiavone clambered up the seating for a group hug.
"When she came up it seemed like she still didn't believe she had done something so amazing, there were tears of immense joy."