If Jennifer, the mother of Usain Bolt, is to be believed the Olympic champion might be trying out something new at London two years from now.
"He might change things around a bit and try something new," Jennifer was quoted as saying in The Telegraph.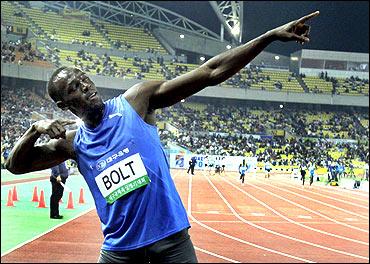 The 400 metres might be an option, so too the long jump, she said, although switching to a field event was less likely than simply extending his long legs one lap of the track.
But Bolt's mother knows that keeping her son interested in the sport, giving him new challenges, is the key to his motivation.
Meanwhile, the triple Olympic champion and top sprint rivals Tyson Gay and Asafa Powell will meet for the first time this year in a 100 meters showdown at the Stockholm Diamond League meeting next week.
The clash on August 6 will be the first including Jamaican Bolt, American Gay and Bolt's compatriot Powell since they took gold, silver and bronze at the 2009 Berlin world championships.
Bolt has beaten Gay in both of their 100 meters races. He holds an 8-1 edge over Powell, the loss coming in the 2008 Stockholm meeting.
Weeks later, Bolt set world records in the 100 and 200 and helped Jamaica eclipse the 4x100 record at Beijing. He went on to break both sprint records at last year's world championships.
The three also will meet in the Diamond League final at Brussels on August 27.