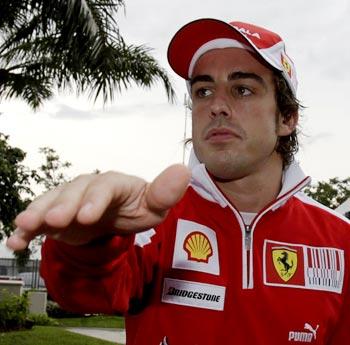 Fernando Alonso shrugged off criticism of his Ferrari team tactics and made clear it was business as usual at the Hungarian Grand Prix on Thursday.
With conversation at the Hungaroring still dominated by the 'team orders' controversy that erupted at Hockenheim after Ferrari were fined US$100,000 for telling Felipe Massa to let Alonso through to win, the Spaniard refused to be drawn into further debate on his 29th birthday.
"I've nothing really to say about any team, any polemic, any opinion from anyone," he said in English when asked whether, if he won the Formula One title, he would have won it fairly.
"There are many opinions, many things have been said in the last couple of days.
"The only important thing for us is that the car is competitive and we can do well here in Hungary.
"If other people have opinions we respect them, but we are concentrating on our job," added the double world champion after answering questions from Italian reporters before a session with the Spanish media.
Alonso was given a rough ride after last Sunday's race, mainly by the British media and to the anger of many of his supporters in Spain, but Thursday's line of questioning was less heated if still direct.
He avoided a question on whether he had ever been involved in team orders during his ill-fated year with Lewis Hamilton at McLaren in 2007 and said Ferrari does not have a number one or a number two driver.
"What happened is in the past, and we have nothing to say any more. We said everything in Germany, our president as well," he declared.
Asked by a radio reporter about the fans' reaction, Alonso suggested that the reported outrage was far from universal.
"I arrived today in Hungary and the airport was full, the hotel was full of people cheering for us, and that's what I've seen so far," he said. "For the moment I have only seen those ones."
"I'm still the same and I will fight, as always, for the best things possible, my team, for the sport, and hopefully I will always do well in my career," said Alonso of his attitude.
"As drivers we are not able to decide anything. We will let the people who know better than us decide what is best for our sport. I'm sure they will decide whatever they think is the best. We just drive the cars."