Lance Armstrong and his team RadioShack will face disciplinary proceedings for breaching riders' clothing regulations during the Tour de France, the International Cycling Union (UCI) said in a statement on Monday.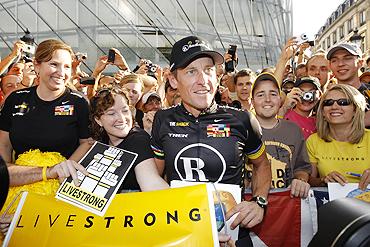 The American, who was diagnosed with cancer before going on to win seven successive Tours from 1999-2005 and returning to the sport in 2009, was riding the famous race for the last time and attempted to wear a black Livestrong shirt instead of his team's red and grey strip during the final day on Sunday.
The 38-year-old was halted from publicising his Livestrong foundation by wearing the new jerseys with the number 28 - a reference to the estimated 28 million people living with cancer - which delayed the start of the race, though he did wear it on the podium at the end.
"RadioShack's incorrect behaviour led to a 20-minute delay to the start of the final stage, which could have disrupted the televised coverage of the race, placing the Commissaires under the obligation to impose a fine on each rider and the team managers," the statement read.
"The UCI regrets that an initiative for a cause as worthy as the fight against cancer was not coordinated beforehand with the Commissaires and organisers of the event. This could have been done whilst remaining within the rules."
RadioShack's Belgian boss Johan Bruyneel, a former rider, was unhappy about the decision and is also in trouble with the UCI for the following comments posted on his Twitter site: "To be a race commissaire you don't need brains, but only know the rules."
"The UCI also deplores the declarations made by Mr Johan Bruyneel who gravely offended all the Commissaires working in cycling. His remarks are utterly unacceptable, and Mr Bruyneel will be called upon to answer for his comments before the UCI Disciplinary Commission," the statement added.
The UCI added that any fines levied as a result of this matter would be donated to the LSC (Ligue suisse contre le cancer - Swiss Cancer League).