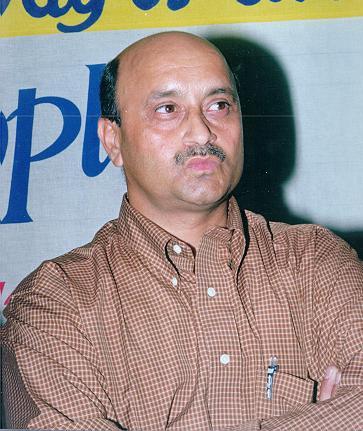 The sex scandal in Indian hockey took a new turn on Monday with the Sports Ministry launching its own probe into allegations of sexual harassment against suspended coach M K Kaushik, who has threatened to take legal action against Hockey India (HI) for maligning him.
On yet another day of fast unfolding developments, the Sports Ministry issued an order to its Sexual Harassment Committee to inquire into the allegations.
But a combative Kaushik, who resigned from his post after the scandal broke out, trained his guns at Hockey India, accusing the sports body of trying to put him in the dock without having any evidence at all.
Kaushik had resigned after player Ranjita Devi complained to HI that he sexually harassed her during the recent Canada and China tours. HI had already referred the case to Delhi Police after examining the report of its five-member inquiry committee set up after Ranjita's complaint.
"The Ministry has issued an order to the Ministry's Sexual Harassment Committee to inquire into the recent allegations against M K Kaushik. The committee will follow due procedure laid down by honourable Supreme Court in the Vishakha case," a statement from the ministry said.
The ministry said that the committee will take into account the report of the inquiry panel set up by Hockey India to probe the allegations against Kaushik though it is yet to be received.
"The inquiry committee which was set up by HI which is yet to be received by the ministry will also be taken into consideration by the committee," the statement said.
The Committee will comprise of five senior women officers from the Sports Ministry and a woman member from a NGO. The committee will co-opt one member from the Delhi Women's Commission.
Kaushik, on his part, questioned Hockey India's authority to recommend police and government action against him and objected to HI holding that Ranjita Devi's complaints against him were "credible" without verifying the allegations.
He said since the five-member inquiry committee's report had only factual matters and no recommendations, HI could not recommend action against him.
"I object to Hockey India deciding not to use my services and recommending Delhi Police to take action against me. The inquiry committee had not at all given any recommendations and how can HI do this," he told reporters at a hurriedly-convened press conference.
"I object to HI secretary general Narinder Batra saying that Ranjita Devi's written reply were credible and had specific charges. The report itself said there were no verification of the allegations. So it is contradictory, on one hand you are saying that her version was credible and at the same time they are not proved. How can it be possible?" he asked.
"I am saying again that all these charges against me are baseless and fabricated. I have sent a reply to the letter sent by HI to the Sports Ministry recommending action on me," he said while presenting his lawyers Mandira Mitra and Praveen Aggarwal to the media.
Mitra said his client will see the situation for a while and if necessary will go to court.