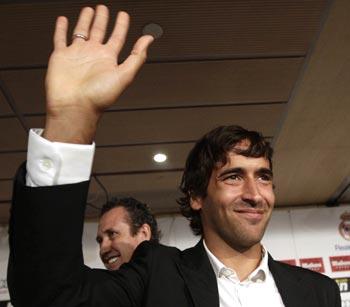 Real Madrid's talismanic striker Raul bid an emotional farewell to the La Liga club on Monday after 16 seasons and said he is eying a move to the German Bundesliga or the English Premier League.
The 33-year-old, a huge favourite among Real fans and a club captain, had tears in his eyes when he announced his departure at a packed news conference at Real's Bernabeu stadium.
He acknowledged keen interest from Bundesliga club Schalke 04, who have offered him a two-year deal according to local media, but also said a move to England is a possibility.
"This is a very tough and very difficult day for me," Raul said, before paying homage to former Real player Alfredo Di Stefano, who is recovering from heart and respiratory problems in a Madrid hospital.
"I feel like a player and I want to continue feeling like a player for the time I can and that my body allows," he added.
"It's a chance to have an experience abroad. Schalke have shown a lot of interest but other teams too. My future lies in England or Germany."
STRONG PLAYERS
Raul's exit follows the announcement on Sunday that midfielder Guti, also 33 and a popular figure with the club's hard-core fans, was leaving and considering a move to Turkish club Besiktas.
The pair barely featured last season under coach Manuel Pellegrini and the club have signed winger Angel Di Maria and midfielders Sergio Canales and Pedro Leon to strengthen the squad for Pellegrini's replacement, Jose Mourinho.
"Some very strong players have come in," Raul said. "I had the feeling it was time to end this."
Raul joined Real in 1992 after a brief stint in the youth setup of city rivals Atletico and made his first-team debut against Real Zaragoza in October 1994 at the age of 17.
He helped them to win six Spanish league titles and three Champions League titles and scored 323 times in 741 appearances in all competitions, according to the club's website.
In October last year, he equalled German Gerd Mueller's record of 66 goals in the three main European club competitions when he scored against AC Milan in the Champions League.
He holds the all-time scoring record for Spain with 44 goals in 102 appearances, one more goal than his successor in the number seven shirt David Villa.