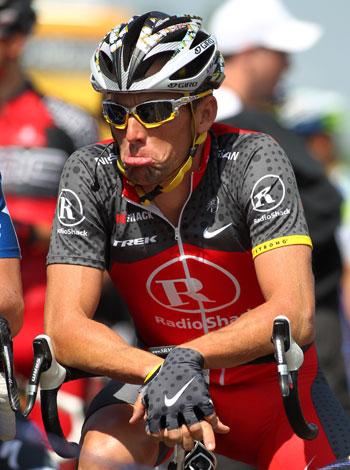 Lance Armstrong is confident the ongoing federal investigation into alleged doping will go his way, the seven-times Tour de France champion said on Thursday.
The American rider has hired criminal defence attorney Brian Daly, a former US federal prosecutor, following allegations made by fellow countryman and ex-team mate Floyd Landis.
Landis, who was stripped of his 2006 Tour title following a positive dope test, has accused Armstrong and several other American riders of using performance-enhancing drugs.
Armstrong, who has faced doping allegations throughout his career but never tested positive, has repeatedly denied any wrongdoing.
"Obviously you need some legal counsel on this. I'm 100 per cent confident there will be a satisfactory resolution for me," Armstrong told reporters after finishing 17th in the 17th stage of the Tour de France.
"This is the United States of America. You can't prosecute somebody for something they didn't do -- normally. But along the way you've got to protect yourself."
With other riders and managers also concerned about the allegations, Armstrong warned the matter should be taken seriously.
"I think everybody involved should have legal protection and know their rights and know what's truly best for them," he said. "It's safe to say I will have representation, just to be safe."