Like most forgotten heroes, former India hockey goalkeeper Alloysius Edwards has chosen to maintain a low profile while keeping his favourite sport close to his heart. His acrobatics and quick reflexes under the bar have been replaced by serenity and solitude in the now politicized world of Indian hockey.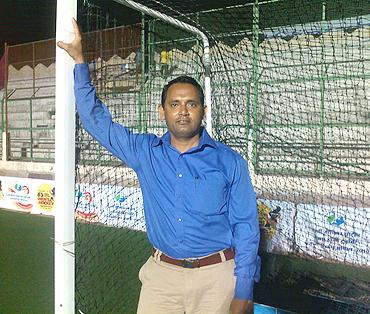 For Edwards, this is a wise decision, out of choice rather than compulsion. His sanguine figure camouflages his experiences, both on and off the field. Edwards has been there, done that and seen it all, and he is deeply pained by the decline of the sport in the country and its reputation overseas. But he feels helpless, unable to express his feelings. Prudence reminds him that silence is golden.
But he struggles to hide his passion for hockey, which stimulates an impromptu response in the hopeless trough of despondency.
"There is hope for hockey in India," he blurts out while watching the closing stages of the 63rd Rangaswamy Cup Senior National Hockey Championship at the Aishbagh Astroturf Stadium in Bhopal.
"Take a look at this championship… apart from the departmental teams and an academy team, there are 32 state teams which have turned up. This should tell you who is for the IHF and who is for Hockey India. The teams and players who have chosen to skip the tournament have only harmed their interests and careers. Players should completely ignore this ego tussle that we are calling politics," reasons Edwards, now branch manager with Punjab & Sind Bank, Secunderabad.
"It is a blessing in disguise for this new crop of young players. Had there been no pullout by certain teams, we would never have known of their potential. Their talent is being showcased on an ideal platform. What better than the Senior Nationals. They are the future. I am very impressed by their skills and attitude," says the 1994 Sydney World Cupper and 1996 Atlanta Olympian.
Edwards further explains that it's only a matter of time before the current established names in Indian hockey fade away. "They are relying on the same old players for years. After some time, where will Hockey India get their future players from?," he asks. "These are the boys whose average age in the tournament is 21 and it is they who need to be groomed into future India players. They have proved themselves here and their hard work will not go in vain."
Edwards is delighted at the prospect of the government bonding IHF and Hockey India to form one body for hockey.
"This, in my view, is the best solution," he suggests.
"Both sides should put their egos aside and come together. Who is the Indian Olympic Association to disregard the entire IHF for just one individual's (alleged) sins. Why punish the federation? It's not that Hockey India has done much after that."
Edwards believes every ruling body should have a CEO like former India captain Viren Rasquinha to run their associations and federations in a professional manner.
"I would like to see at least ten Viren Rasquinhas (who is COO of Olympic Gold Quest) in every federation or association. Only then will things begin to change. An individual like Viren is a former player who empathises with them, he has done management and is now a qualified administrator. In addition, he is transparent."
Like most tragic ends to blooming careers of Indian sports persons, Edwards was another statistic in that long list of premature exits.
"We had gone to Australia and had a month long camp and selection trials in Brisbane. After a marathon meeting that went on for hours, IHF PRO Krishna Mech congratulated my roommate (right half) Baljit Singh Saini and chief coach Baskaran's assistant Harinder Singh for being chosen for the 2000 Sydney Olympics. He said 15 of 16 names were declared with the selectors unable to decide whether to opt for Senthil from Tamil Nadu or Gagan Ajit Singh.
"I was part of the 16 and our blazers and full kit were ready. Goalkeeper Jude Menezes from Bombay was given the No. 1 jersey, while I was given the No. 12 jersey. Jagdish Ponnappa was the third goalkeeper. But (a superstitious) Jude suggested we exchange the numbers.
"Jude and I were practicing in the goal during a morning session in Brisbane when SS Gill and Gagan Ajit suggested we were 'jumping like monkeys' and wasting our time. I was shocked to learn that I was not in the team. Instead, Devesh Chauhan's name was listed. He was not even among the 22 probables and had only one junior nationals to his credit. I was sent back from Australia."
Strangely, Chauhan never featured in a single match in the Sydney Olympics.
It was an ominous sign for a humiliated Edwards who quit and never played for India again.
Back home in Jalandhar, where he was representing Punjab & Sind Bank, a shattered Edwards had just stepped out of church after Mass when he received the news that Poland had held India to a 1-1 draw in a crucial tie to qualify for the semi-finals, while India were left to battle for the fifth to eighth spot.
Track Record:
1994: World Cup, Sydney
1995: Champions Trophy, Berlin
1996: Atlanta Olympics & Sultan Azlan Shah (captain)