Chandigarh overcame hosts Madhya Pradesh State Hockey Academy (MPSHA )7-5 via the tie-breaker to set up a semi-final clash with former champions Mumbai, in the 63rd Rangaswamy Cup Senior National Hockey Championship at the floodlit Aishbagh Astroturf Stadium, Bhopal on Wednesday.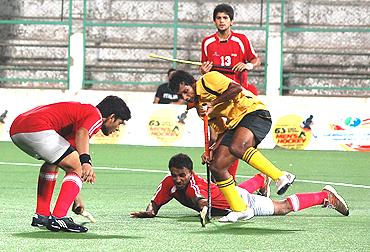 The teams were locked 2-2 at full time and extra time, after man of the match Upendra Pillay fired in MPSHA's equalizer for his second goal with just four minutes remaining, in the second quarter-final that emerged as another thriller that followed Mumbai's exciting 4-2 win over Punjab.
MPSHA had a brilliant opportunity to score the golden goal seconds before the end of the second half of extra time but Sukhram Munna, who lunged forward, failed to connect Pillay's superb through pass.
Earlier, MPSHA had two more opportunities in the first half of extra time but Chandigarh goalkeeper Harjeet Singh foiled Prince Yadav and Pillay in quick succession.
Harjeet paved the way for Chandigarh's win in the tie-breaker while diving to his right to save MPSHA captain Shailendra Bundela's push off the third stroke, before Gaurav Tokhi slotted in the last stroke to seal victory for the visitors.
In a match that could have gone either way, the pace was fast and furious and set the tone for entertaining hockey that included all field goals during regulation time, dazzling stickwork and equally delightful passes from both sides.
Chandigarh broke the deadlock in the eighth minute through Harmanpreet and snatched a 2-1 half time lead through Gurjant Singh in the 27th minute after MPSHA equalized with Pillay's effort in the 23rd.
In another exciting quarter-final, a formidable Tamil Nadu beat the last edition's runners-up Delhi 3-1, after leading 1-0 at half time through Maheshwaran's field goal in the 27th minute.
Delhi came back into the match and equalized through Amit Lochan's penalty corner in the 40th minute, but could not match the experience and control of a more effective TN.
With captain Adam Sinclair using his international experience to control the midfield, TN were always the better combination and at an advantage. They snatched the lead again off their first penalty corner when man of the match Arun Stalin David pushed home in the 47th minute, before defender Vinod Rayer made it safe with their third goal off another penalty corner in the 55th minute.
Thursday is a rest day and the competition will resume with both semi-finals on Friday.