World No 1 golfer Tiger Woods goes into The Open at St Andrews amid speculation that his caddie Steve Williams could be about to walk out on him.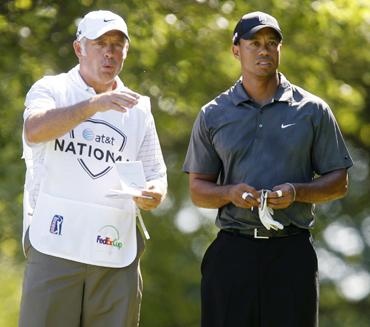 After losing his wife, Elin Nordegren, and his coach, Hank Haney, this year, Williams' departure may prove to be another blow for Woods.
Haney, who had been Woods' coach for the last six years, resigned in May.
Woods had criticized Williams after the US Open last month, but the caddie has expressed his own displeasure with his employer's performances since the issues in his private life were made public.
"The circumstances of 2010 are obviously well publicized and that has made it very difficult," The Daily Express quoted Williams, as saying.
"I understand Tiger has got a lot of problems. I'm used to seeing a lot of good golf. When you're not seeing that for an extended period of time and not seeing a lot of improvement, that's what is frustrating," he added.
Williams also described Woods's putting as substandard and stated that the world No1's game "hasn't been up to scratch".
Woods has thrown away the putter he has used since 1999 for the Open, which begins on Thursday at St Andrews. Williams said: "The one part of Tiger's game this year that has been very substandard is his putting. He hasn't putted well in any of his events. The key to playing well at St Andrews is putting. The greens are very generous so you don't miss that many greens.
"The practice rounds will be paramount in spending a lot of time on the greens getting a feel for lagging putts. You can have a lot of 40, 60, 80-foot putts there and if you complete the week without a three-putt, you're going to be near the lead.
"Putting is the key element - that's the difference between winning and not winning. He's renowned as a good putter based on the fact that he holes a lot of putts when you have to, but there's been no consistency. It's been poor in every tournament he's played. It has been frustrating, no two ways about it. But he loves to play St Andrews. I've made it very clear to him what he has to do and that the onus is going to be on putting."
Williams has carried Woods' bag since 1999, and has earned millions of dollars from the association.