Tottenham Hotspur have extended manager Harry Redknapp's contract until 2013, the Premier League club said on Tuesday.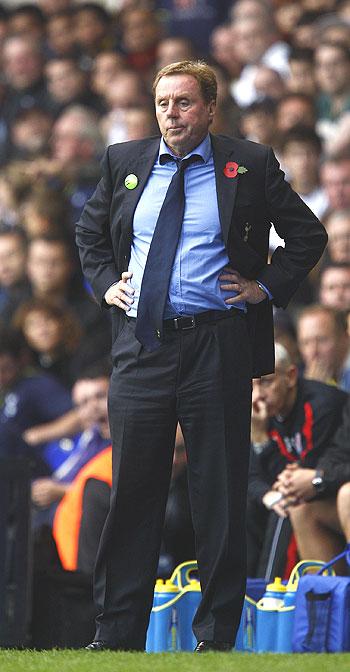 Spurs, who made the announcement on their website (www.tottenhamhotspur.com), finished fourth in the Premier League in 2009-10, Redknapp's first full season in charge at White Hart Lane.
Their highest finish in the Premiership, bringing with it a place in the Champions League qualifiers for the first time, was a triumph for Redknapp who has transformed the club's fortunes since he joined from Portsmouth in October 2008.
When he arrived, Tottenham were bottom of the league after their worst start to a season.
Redknapp's contract had been due to expire in 2011 but included an option for two more years.
The 63-year-old, who won the Premier League manager of the season award, said he could stay for longer.
"I am now committed to Spurs for the next three years, and of course I am pleased by that," he told the ESPN soccernet website.
"That has made me think about how long I want to stay in the game and, who knows, I might stay with Spurs many more years than 2013.
"You never know what is around the corner and, while I have the energy, I think I will carry on for as long as I can," added Redknapp, who won the FA Cup with Portsmouth in 2008.
"I have changed my mind and I feel as though I have a good few years left me in yet."
Meanwhile, Redknapp has said that he wants to sign Chelsea midfielder Joe Cole. "I'm delighted to sign, now I want Joe here with me."
The 63-year-old is prepared to leave no stone unturned in his pursuit of Cole, and is prepared to offer him a regular place in the Spurs' team, something which the midfielder could not nail down at Chelsea.
Talks between Cole's agent and Spurs Chairman Daniel Levy have reached a crucial stage with the England star demanding 100,000 pounds a week.
"I managed Joe when I was at West Ham, I signed him for the club when he was just 11. We have always had a good relationship. I know what makes Joe tick - it's his love of the game and his need to be playing it. That is what I am offering him," The Sun quoted Redknapp, as saying.
"I would like Joe here with me, but it is now up to the club, Joe, his dad and his agent. Daniel is talking and trying to do a deal. If it is beyond us in financial terms I can appreciate that, but I am hoping other factors will come into play to make up Joe's mind," he added.
Chelsea released the 28-year-old last month after he refused a new contract.