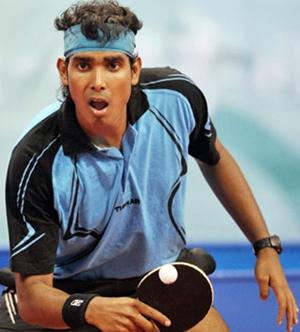 India's Achanta Sharath Kamal came up with a splendid performance to shock top seed Li Ching of Hong Kong and win the Egypt Open Table Tennis Championships in Cairo on Sunday.
The sixth seeded Indian Olympian won 11-7, 11-9, 11-8, 11-4 to claim his second successive title in as many weeks, having won the US Open last Sunday, beating Keineth Thomas of Slovakia in Michigan.
He becomes the first player from India to win a singles title on the ITTF Pro Tour.
Earlier, on Sunday morning, Sharath made it to the semi-finals, beating Jiang Tianyi of Hong Kong 4-1.
The world number 76, won the first two games 11-5, 11-6 before Tianyi reduced the deficit by winning a keenly-contested third 16-14.
However, he won the next two games 12-10, 11-9 to make it to the title round.
Ching beat Egypt's Lashin El-Sayed 4-1 in the other semi-final.