LeBron James announced on Thursday he was leaving the Cleveland Cavaliers to join Dwyane Wade and Chris Bosh at the Miami Heat next season, ending one of the biggest transfer sagas in U.S professional sports.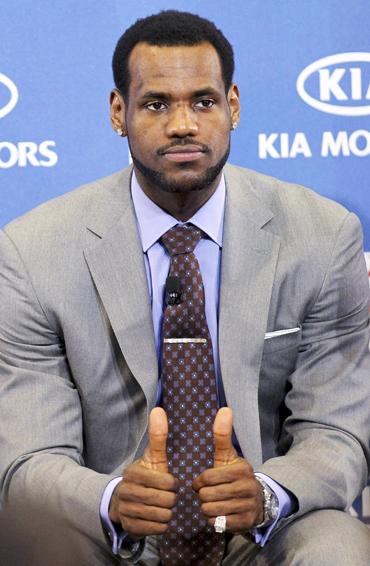 The NBA's Most Valuable Player for the past two seasons, James's future had already been the subject of intense speculation in the United States over the past few months but reached unscaled heights when the free agency period began last week.
James and his management helped fuel the frenzy by keeping their plans secret before he finally revealed the identity of his new team in a special one-hour show broadcast live on national television.
"I am going to take my talents to South Beach and join the Miami Heat," he told a small group at the Boys & Girls Club of Greenwich, Connecticut, about 35 miles northeast of New York City.
James had been with the Cavaliers since they took him with the top pick in the 2003 NBA draft but was expected to move as soon as he became a free agent when his contract expired at the last of season, triggering a rush of teams hoping to sign him up.
"I want to be able to win championships and I feel like I can compete down there," he said.
Six teams, Miami, Cleveland, Chicago Bulls, New York Knicks, New Jersey Nets and Los Angeles Clippers all made offers to James but it was the prospect of playing with Wade and Bosh that proved decisive.
The trio teamed up to help the U.S. win the men's Olympic basketball gold in Beijing and had reportedly talked about the possibility of joining forces in the NBA when they all became free agents at the end of last season.
That possibility edged closer to reality when Bosh announced on Wednesday that he was leaving the Toronto Raptors to join Wade in Miami. On the same day, Wade revealed that he had re-signed with the Heat.
"The things that the Miami Heat franchise have done to be able to free up (salary) cap space and to be able to put themselves in a position this summer to have all three of us, it was hard to turn down," James said.
"Those are two great players, two of the greatest players that we have in the game today, and you add me we are going to be a really good team."
The announcement by James brought about a dramatic ending to one of the most enthralling transfer deals ever seen in the NBA.